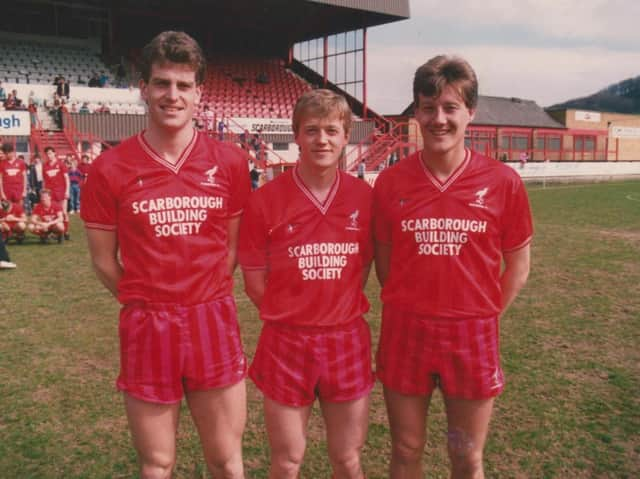 Tony Outhart is pictured above with Boro teammates Craig Short, left and Mitch Cook, right
At this year's Cheltenham Festival, Outhart, 56, of Scalby, who played for Boro in the late 1980s, was delighted by his Racing For Fun syndicate's success in the Grade 1 Stayers Hurdle with 66-1 shot Lisnagar Oscar.
Lisnagar is one of four horses that Outhart co-owns that are trained by Rebecca Curtis' from her Fforest Farm stables in Pembrokeshire, Wales.
Outhart has been involved in racehorse ownership since 2002 and was fortunate to have a winner with his very first runner, while first runner at the Cheltenham Festival in 2003, Tribal Venture, finished third at 100-1 trained by the late Ferdy Murphy in North Yorkshire.
Tony Outhart, left, celebrates the victory of O'Faolain's Boy at Cheltenham Festival in 2014
Outhart said the buzz in having a placed horse at the Festival with his first runner was amazing, and he did not have to wait too long for his first Festival winner which came in 2008, when he and three of his friends owned another Ferdy Murphy trained horse called Naiad du Misselot that won the ultra competitive Coral Cup.
Outhart says that Ferdy was a genius of a trainer who was an expert in getting his horses in peak condition for Cheltenham.
Then in 2014 the same ownership team snapped up another winner thanks to O'Faolains Boy, this time trained by Curtis, a horse that was highly-rated but was unlucky with injuries.
Former Boro winger Outhart said: "Lisnagar Oscar had been regarded as a very promising novice hurdler last year, but was having a poor season before this race so was totally unfancied by the racing pundits and bookmakers.
OFaolains Boy races to victory at the 2014 Cheltenham Festival
"This season Rebecca had switched him from hurdling to chasing, but it did not go well for him in his first few so races so she went back to hurdling with him.
"He then also had problems with ulcers, which, although it is something that can be treated, also set him back a bit, and on top of this in his first race backafter the ulcer issue he had a freak fall early in the race, but thankfully he was not injured.
"So heading into this year's Cheltenham we were not expecting too much, and to be frank the season was turning out to be one of our worst since we started.
"We'd already had a lot of bad luck early in the season….tragically our best horse, Drovers Lane, suffered a broken leg on the gallops last September and had to be put down.
"This was a massive blow, and then one of our most promising horses, Minella Bobo, also suffered a slight injury but this was still enough to rule him out for a long time.
"Suffice to say we headed to Festival with not a lot of expectations, but on the morning of the race I asked Rebecca what she thought Lisnagar Oscar's chances were and she said 'I think he will win, he is back to his best form'.
"As she had rated him as one of the best novice hurdlers in the country before this season's issues, we all thought that 66-1 was a massive price given her confidence in how well he would run.
"So even though it was a tough race with odds on favourite Paisley Park and four other former Festival winning horses in the field, all of the nine syndicate members had a little each way flutter!''
"I did get a lot of grief in texts from my mates asking why I hadn't passed the tip onto them, but I have given them so many losers this season I thought it best to keep my mouth shut this time!"
Outhart admits that maybe the Festival should not have gone ahead with the shadow of coronavirus hanging over most of sport at the time, but says it is easy for people with the benefit of hindsight to point the finger and blame the Festival organisers for going ahead.
"Before the event and even every day we were at the festival we were not sure if it was going to go ahead," he added.
"Looking back now, and knowing what we know now, maybe it wasn't the wisest choice to go ahead, but at the time Government advice was for sports events to keep going.
"For example Liverpool played their Champions League game at home to Atletico Madrid that week with 50,000 plus fans attending but football and other sports are not getting as much criticism as Cheltenham is receiving for not cancelling.
"It is easy to blame the last major sports event to go ahead before the lockdown, but I don't think that is fair as they were only following the advice they were receiving from Government at that time."
He also admits to major worries for the future of racing, and sport in general, in the current crisis, but is keen to keep it all in perspective.
Outhart added:"It is awful how much the shutdown is affecting racing and many other sports, but we have to place it in context as there are much more serious things happening in the world right now.
"Hopefully the country can come through this and that normal life will resume when we are over it.
"The measures brought in by the government such as the Job Retention Scheme should help keep the racing trade going, I do feel sorry for a lot of people in the industry.
"For me it's a hobby, a pastime for fun, but for a lot of people it is their livelihood, from trainers to jockeys to stable staff and many more.
"I hope for their sakes that racing can resume in the not too distant future."
As well as Lisnagar Oscar and Minella Bobo, Outhart also co-owns in Legends Gold and Just a Thought at Curtis' stable, as well as Pickamix with Charlie Mann's in Lambourn and Casa Tall with Tom George at Down Farm.
He also part-owns a Flat two-year-old called Miss Nay Never with Malton trainer John Quinn.
Outhart added: "I can pop to Malton to see Miss Nay Never on the gallops, but don't manage to see the other horses as much as I'd like.
"I only go to Rebecca's stables a couple of times a season, with it being such a long round-trip to Pembrokeshire.
"The success that Rebecca achieves from her line-up of around 20 horses is amazing considering the much larger stables she is up against at the big meetings such as Cheltenham Festival.
"She and her small team do an amazing job with our horses, and has five Festival winners plus the Scottish National already on her CV.
"Most of the times I get to see the horses are at the races themselves, but at the moment this is on hold of course.
"I think I have been to just about every racecourse in the country following the horses I'm involved in."
Outhart had also been keeping close eye on his hometown club ,Scarborough Athletic, before the current cessation of sporting action.
He said: "I have been down to see them a few times this season with them being my local team.
"I had also been due to meet up with some of my old Scarborough FC teammates for the fundraising event at Scarborough Rugby Club where his former manager Neil Warnock was to be guest speaker, but this was called off due to Covid-19.
"Hopefully it will be rearranged as it would have been good to catch up with the lads and Neil again while also helping raise funds for the club''.
"It was brilliant to be part of my hometown club during that period when we first played in the Football League. #
"I may not have been a first team regular but for a local lad to play in the Football League for your home club was great.
"At the time it probably meant more to my Dad, George, who also played for Scarborough in the 1950's, so I have a lot of really fond memories of Scarborough FC, both as a fan and player.
"I had been playing for Bridlington when Neil took Boro up from the Conference so I joined when they were already in the league in the 87/88 season.
"Neil had assembled a great combination of young players such as the Short brothers, a few local lads, like me, as well as some very experienced pros such as Ray McHale, Tommy Graham, Mitch Cook and Steve Richards.
"Given what a stellar managerial career Neil has had it is no surprise that Scarborough did very well in those early years in the League.''
Outhart added: "The era of the Wembley finals in the Seventies and the time when we gained promotion into the Football League were probably two of the best times to be involved with Scarborough FC, and I feel very lucky to have been actively associated with the club during these times.
"There is still a strong camaraderie between the lads from my playing days, and you can still feel it when we do get together….the mickey taking is still pretty severe!'
"One of the last times we all got together was a very sad occasion though, as it was for Steve Adams' funeral.
"Steve was a great character, and was hilarious in the dressing room.
"He is sadly missed by all of his former teammates.
"Sport is important and can give people a lot of joy, excitement, disappointment and many great memories.
"I hope that things in the sporting world can quickly return to normal when the time is right to do so.''