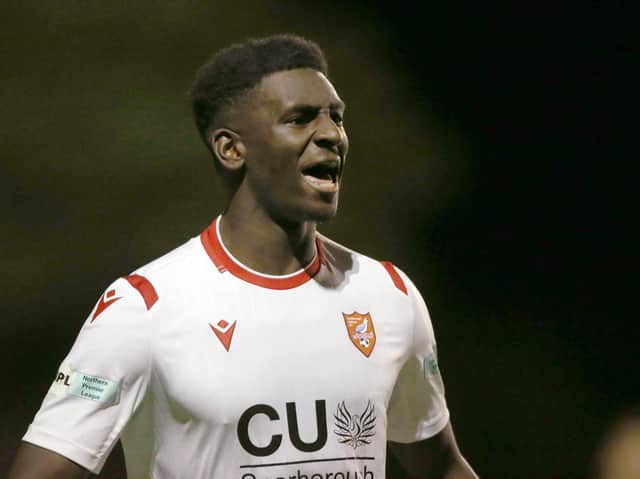 RELISHING HIS RETURN: Boro defender Isaac Assenso
Assenso suffered a horrific tear of his ACL (anterior cruciate ligament) during Boro's game at Hyde United in February 2020, also damaging his lateral and medial meniscus in the process.
He has undergone a lengthy process of rehab and is finally starting to see some light at the end of the tunnel.
"It's been a tough year for everyone I suppose and I've struggled at times," said Assenso.
"I suffered the injury in February and by the time I had my appointment to have surgery, the pandemic struck and it was almost impossible to get into the hospital.
"It's been strange in that sense, had I been able to get in earlier I'd have been back by now, but at the same time I haven't missed much football despite being out for so long.
"They usually say nine months from surgery to be involved in training, and that would be June 21, and to play a full contact match is usually a year, and that would be September 21st, so I would hopefully only miss a few games.
"I'm still feeling some pain in my knee when I run as I am building up the muscle I have lost during rehab, but it's good to be getting there with it all."
Assenso is keen to return to Scarborough Athletic when he does eventually return from injury, admitting he was enjoying his time with the club before his lengthy lay-off.
"Of course I'd like to return to the club, I'm still a Scarborough Athletic player and Daz [Darren Kelly] has been in great with keeping in touch and checking in on my progress and has said he wants me to go back for training so we'll see how things go.
"Before I got injured I was really enjoying my football and felt I was playing well, so it would be great to come back and pick up where I left off."
Assenso feels the Athletic fans can help the team push for promotion from the Pitching In Northern Premier League in 2021/22 campaign.
He added: "Promotion absolutely has to be the aim for Scarborough - definitely.
"It's a big club with great support and it would have to be the aim for the team to be pushing to go up when the season gets under way.
"I always want to play as high as I possibly can and test myself against the best players possible and I'd love to do that with Scarborough Athletic.
"The fans are absolutely fantastic. They have always been great with me and I appreciate that.
"I don't do much on social media so don't see many messages or anything like that, but they have always been supportive of me."