New boss Jono Greening eager to launch Scarborough Athletic mission
Scarborough Athletic's new manager Jono Greening has admitted he cannot wait to get started with the job in hand after a whirlwind few days since his appointment on Friday.
Thursday, 27th May 2021, 7:00 am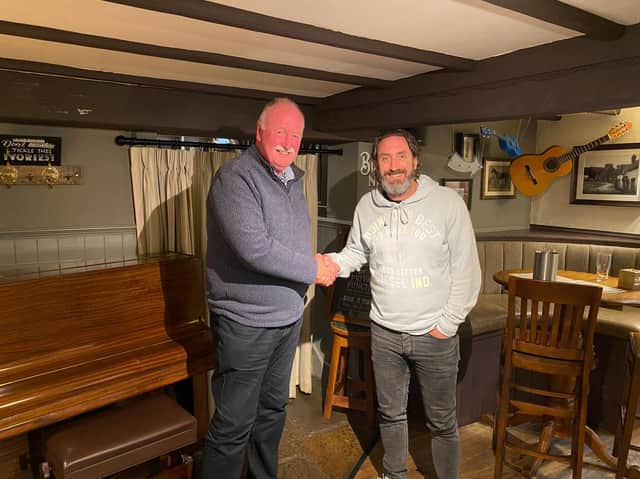 New Boro boss Jono Greening is welcomed to the club by chairman Trevor Bull.
The former Manchester United, Middlesbrough and West Brom midfielder was named as Boro boss on Friday lunchtime, replacing Darren Kelly, whose exit as manager was revealed only a few days earlier.
Greening, who won the Champions League with United as part of their Treble-winning 1998/1999 squad, said: "It has been mad since it was announced at Friday at 12.30pm, it has been like a whirlwind the past days.
"I managed to get chance to talk to all the players individually on Sunday, for about 15-20 minutes each.
"They all seemed very positive during these chats.
"I made it clear they'll all be given a chance in pre-season to prove themselves, this is a fresh start for me and it's also a fresh start for them.
"I want players here at Boro who are hungry for success like I am.
"I told them that they all need to be looking after themselves with running, gym work and fitness work before we even start training.
"Ideally I want to get the pre-season training started a few weeks earlier than normal as it has been a mad year with the pandemic and it is crucial we get going as soon as possible.
"I would imagine all the players are as keen to get going as I am with football having been affected at all levels over the last year.
"While I've not managed in this league before I have been a coach since 2014 so I have plenty of experience and also a lot of experience from my time playing and I want to pass this all onto the players.
"The fans will be looking forward to seeing us back on the pitch at the Flamingo Land Stadium, but we need to produce the performances and results as the fans will hold us to account if we do not achieve this."
Greening admits the chance to manage his home town club was a driving force behind his arrival.
He added: "I've made no secret of the fact that this being my hometown had a big part to play in me taking on the job.
"I have a lot of happy memories from supporting Scarborough FC, going down Seamer Road to watch them with my dad, my brothers and also with my mates from Manor Road park.
"When I was watching games there Tommy Mooney and Darren Foreman were my heroes and I saw the League Cup match against Arsenal, the first League game against Wolves when the fan fell through the roof, and later on when I was a Middlesbrough player, I also came to watch the FA Cup match with Chelsea.
"But I also have some brilliant memories from my time playing with Scholes Park Raiders as a junior footballer, scoring goals there and winning cup finals as well."
Greening has also admitted he has been impressed by the Flamingo Land Stadium set-up on previous visits as a coach, but is looking forward to his first Boro home game in charge during pre-season being his first taste of an Athletic game there.
He said: "I have brought a few of my i2i Academy teams here to play against the Scarborough Scholarship sides and have been impressed by the set-up down here.
"It's a lovely stadium and the new stand is impressive, the fans will be very excited when football finally returns and the atmosphere will be amazing.
"I want to make sure I give the fans a team they can be proud of."