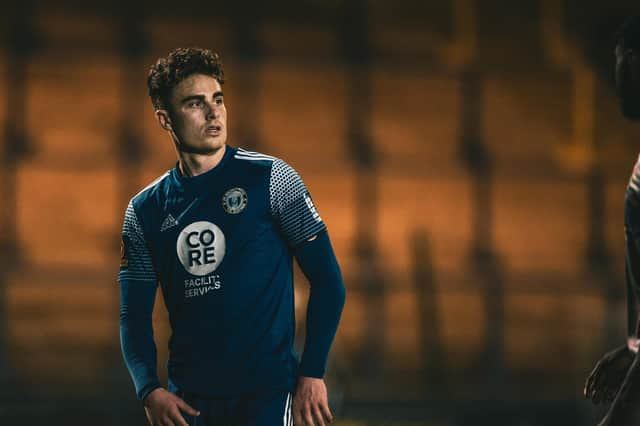 Dom Tear has signed for Scarborough Athletic Photo by Marcus Branston
The forward, whose move from Guiseley was confirmed on Wednesday, has high hopes for the 2022-23 campaign, writes Charlie Hopper.
He said: "I am really happy to get the deal over the line, I spoke to the gaffer Jono (Greening) a few weeks ago and as soon as he got in touch I was really keen to get on board.
"Obviously I know about the club, it is a massive club and brilliant fans, it is just an exciting opportunity for me.
"I was at Halifax and although I did not get a lot of game time I learned a lot, especially in that league. I am only 22 so I have got a lot more learning to go."
Tear was quick to explain the abilities he can bring to the Boro squad for the approaching campaign.
He added: "I love to get on the ball, I love to make things happen, I'm an attacking winger or number 10, anywhere across the front three.
"I love to score goals, create goals, am hard-working and like to be everywhere on the pitch getting stuck in. I always strive to get double digits in goals every year."
Dom Tear during his time with Halifax Town Photo by Marcus Branston
Knaresborough-based Tear is also eager to meet up with his new teammates and the Boro supporters.
He said: "I can't wait to meet up with the boys, I have heard good things from Luca (Colville) who I know quite well and a couple of the other lads and I am looking forward to getting started.
"I have also heard about the fans, they get great numbers down to the games so I can't wait to meet them all as well.
"I am keen to have a settled run of games this season with Boro, as in the past few years I have not really settled at a club.
"Obviously I was at Halifax and went on loan a few times then went to Guiseley and had half a season there, so I just want a good solid season scoring a few goals with a great club. I really believe as a club we can do really well in this league this season."