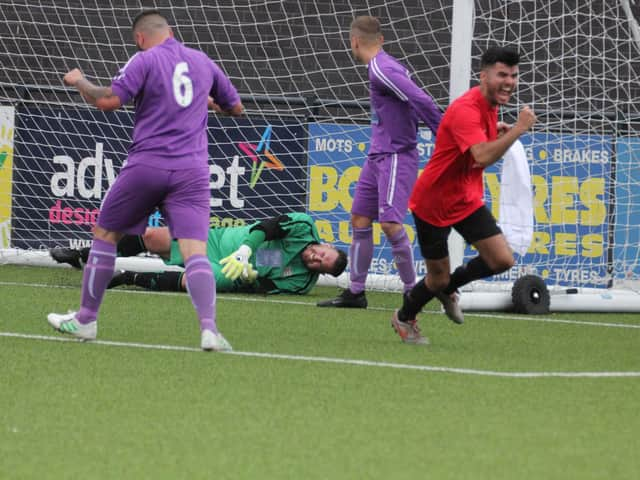 Jack Ramos celebrates levelling the scorers for Itis Itis PHOTOS BY ALEC COULSON
The York League opened the scoring on 26 minutes through J Mackie, but Itis Itis levelled just four minutes later through a near-post header from Jack Ramos.
There were no further goals and the final went to a penalty shoot-out, which was won 5-4 by the York League side.
Rovers manager Jordan Lee said: "They wanted it more. Our preparation probably wasn't good enough, only had one friendly and it showed after 70 minutes, we looked leggy.
Action from the NRCFA final between Itis Itis Rovers and Bishopthorpe United
"Credit to them they pushed us to the end, and there was two great saves from their keeper in the shoot-out.
"Credit to my whole back four, Curtis Rose and Callum Gravestock in particular. Absolutely outstanding effort from them two.
"These things happen in football I'm afraid, we just have to pick ourselves up and get ready for the new season."
Rovers captain Jack Ramos takes on the Bishopthorpe United skipper