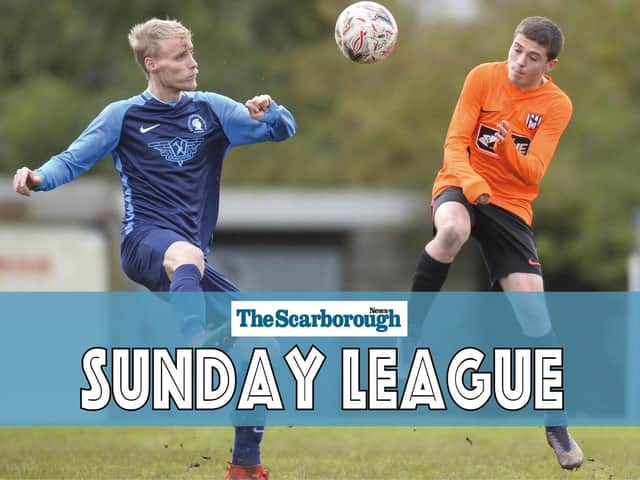 Sunday football reports
Roscoes started brightly in the first 15 minutes and went close as Lee Sutton hit the bar with a header, but the villagers stepped up a gear and took the lead on 20 minutes through striker Tom Macdonald.
The visitors then levelled with a wind-assisted free-kick from 40 yards out near the touchline by Sutton, which Cayton keeper Ciaran Moss failed to keep out.
The home side restored their lead thanks to a tap-in from Luke Chambers after Leeroy Donaldson's free-kick had been parried by the Roscoes gloveman Sean Rowley.
After the interval Roscoes battled back again to equalise, a foul by Shaun Dolan allowing Sutton to slot home his second from the spot.
Sub Dan Bywater then tucked away a nice finish after a flick-on from a throw-in to restore the lead for Cayton, and Steven Frederiksen's side looked to be heading into the semi-finals but the away side took the game to penalties with a third leveller.
Sam Collin headed in the third for Roscoes after a cross from Gary Hepples.
In the shoot-out, Cayton's first three penalty-takers, Bywater, Donaldson and Macdonald all converted, while Sutton and Alex Wray scored but Collin blazed his effort over the bar.
Hepples scored Roscoes' fourth to make it 3-3 then Chambers hit the crossbar to allow Roscoes back into it, Harman scored his penalty to make it 4-3 and then Dolan's scuffed effort trickled against the post and back out to send the visitors through to the final four.
The Roscoes team shared the man of the match award while Harman impressed playing at right-back for the first time, while Kieran Moss was the man of the match for Cayton.
Castle Tavern also moved into the semi-finals thanks to a shoot-out win, triumphing 5-4 on penalties against Fylingdales at the Flamingo Land Stadium.
Mike Coates put the visitors in front with a deflected shot from the edge of the penalty area after 10 minutes.
Tavern roared back into action and were 2-1 ahead at half-time thanks to a Dan Blanchard double.
The hosts then doubled their lead when Blanchard completed his hat-trick. Jordan Wigley pulling it back to 3-2, scoring direct from a corner.
Then a quick throw into the Tavern box saw player-boss Simon Forde turn a defender and get brought down. Forde took the spot-kick, which was saved by the home gloveman but Forde followed up swiftly to smash his shot into the top of the net.
Both sides went searching for a winner but it ended level at 3-3 and went to penalties.
Coates, Kieran Storr, and Dales man of the match Tyren Lettin all scored their spot-kicks, Dale Wigley's efforts was saved by Jim Houlder and then Jordan Wigley scored the fifth and final penalty.
Nathan Spencer, Jack McFarlane, Steve Chittenden, Kristian D'Rosario all scored their penalties before Blanchard secured the win.
The Tavern men of the match were Blanchard for his hat-trick, central defensive midfielder Matt Chapman with a great all-round performance as he never stopped and fellow midfielder D'Rosario for creating chances in another strong display.
Tavern boss Dan Thomas said: "My lads put in a great shift today and deserved to come away with the wiin, they all played well. Proud of the lads and we advance into the semi finals."
Trafalgar also booked their place in the final four thanks to a 6-1 win at top-flight rivals Newlands.
Danny Glendinning led the way with a hat-trick for Traf, with Jamie Patterson, Kieran Link and Sam Garnett also on target.
Kyle O'Toole notched for the home side.
Garnett and Patterson shared the man of the match award for Trafalgar.
Newlands boss Dan Sheader said: "We had a few players missing today but still had a good enough team to get a win.
"It was a poor performance from us, the worst we have played all season and we cannot afford to play like that next week in the NRCFA Sunday Challenge Cup.
"Liam Mintoft was the star man for me today as he never stopped the full game."
Angel Athletic Reserves extended their lead at the top of Scarborough Sunday League Division Two to four points after a 3-0 home win against third-placed Eastfield Athletic.
Jack Pinder notched twice for the pacesetters, with Jake McAleese also on target.
Eastfield's man of the match was left-back Scott Ryan, while right-back Nathan Sutherland and centre-back Mark Marsden also impressed.