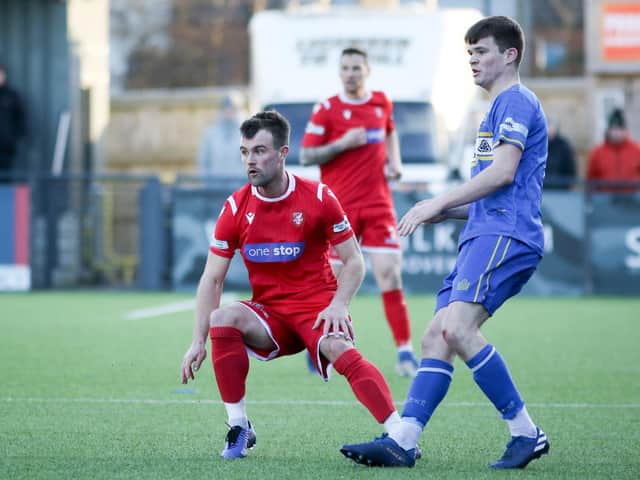 Midfielder Ryan Watson won all three Player of the Year trophies at the Boro virtual awards evening
Watson was named as the Manager's Player of the Year, the Players' Player of the Year and Supporters' Player of the Year.
Keeper Tommy Taylor was named as the Alan Moffatt Away Player of the Year for a third successive season, and the gloveman also won the first-ever Valley Bar Seadogs Player of the year award.
Striker James Walshaw won the Golden Boot, after scoring 25 goals in all competitions for the Seadogs during the prematurely ended 2019-20 campaign.
Tommy Taylor won two awards at the Boro virtual awards evening
Connor Avison, who was in his first season with Boro Under-19s and has risen up the ranks in the club's junior set-up, won the Young Player of the Year award after being nominated by coaches Ryan Blott and Denny Ingram.
Chairman Trevor Bull also paid tribute to club stalwart John Fawcett who has been involved with Scarborough FC and Scarborough Athletic FC, who sadly passed away in April 2020.
A club spokesperson added: "The Awards' 50:50 Draw, was held following the event, for a prize of £191. James Brown won the Draw and donated the winnings back to the club's fundraising efforts.
"The Awards helped to raise £728 for Boro. Thank you to everyone who purchased virtual fizz, beers, 50:50 draw tickets and pies and peas. We are all in this together."
Boro striker James Walshaw won the Golden Boot