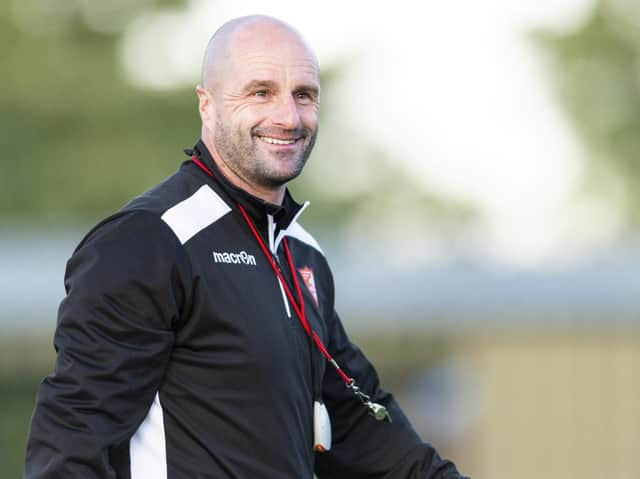 Boro coach Darren Kelly Photo by Will Palmer
Kelly was reacting to the news that some fans are set to be allowed into games at Step 3 - the level which Scarborough Athletic play at - and below.
He said: "Hopefully the fans are allowed back in to watch games as they are crucial to us at Boro, we have a great fanbase and as many have said, without fans football isn't really football.
"The support that they give us every game is so important to us as a team and a club."
Kelly admitted that he is still very busy recruiting new players for the Boro squad as they plan for the start of the NPL Premier season.
He added: "I am busy every day looking to get more players in, we have had some trialists in.
"Pre-season is all about having a look at players and the options available, so hopefully again this weekend for the Brighouse game we will have trialists again to look at."
Defender Tom Devitt and goalkeeper Lloyd Allinson debuted as Boro lost 3-1 in their NRCFA Senior Cup semi-final at Marske on Thursday, but Devitt is not set to feature again.
Nathan Cartman scored a late consolation for Kelly's team.
The boss admitted that it was not a great game and both sides were rusty.
Kelly said: "The players are at around 40 or 50% fitness at the moment and Marske also looked to be at the same stage, it would not have been a great game for the fans to watch on the Facebook live stream but you often get matches like that in pre-season.
"We have been trying lots of different things in the friendlies but at the moment with all the uncertainty about when exactly we will start in the league it is not easy to plan.
"Usually in pre-season you would really push the players hard on the fitness front, but if we are starting in a couple of weeks you do not want to do this. If you end up pushing them too far you could be without them through injuries early on."
Athletic will hope to return to winning ways in Saturday's game at Brighouse Town.