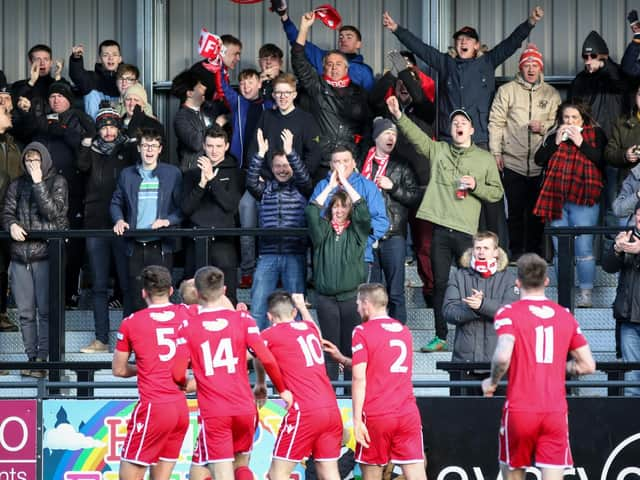 Boro will be allowed fans in at the Flamingo Land Stadium from their next game against Nantwich on Saturday October 17
Boro were prevented from allowing fans in for their FA Cup defeat against Ashton United last week and were then forced to switch their two NPL home games against FC United of Manchester and Stalybridge Celtic to away fixtures.
The club worked closely with fellow NPL outfit Whitby Town to get the decision overturned.
A joint statement from the two clubs said: "After discussions with North Yorkshire Public Health Department, Scarborough Borough Council and North Yorkshire Trading Standards, we are pleased to announce that both Whitby Town and Scarborough Athletic will be welcoming supporters back into their grounds for the forthcoming home fixtures.
"As fellow members of the Northern Premier League, we presented a joint case for the return of fans, and we want to thank the organisations involved for listening to our case, understanding our predicament and making the decision to work together to provide a safe environment at both the Towbar Express and Flamingo Land Stadiums.
"Both clubs remain committed to match day procedures that provide a safe environment for both our supporters and the communities of our respective towns.
"Detailed information on these procedures will follow from both clubs. More information on the sale of tickets for Whitby Town's game against Grantham on 10th October, Scarborough Athletic's game against Nantwich on 17th October, and our game against each other on 20th October, will be released in the near future.
"Whilst we are obviously pleased with this outcome, we note that Public Health North Yorkshire will be reviewing this situation on an ongoing basis, and if cases of COVID-19 rise in the local area and/or our COVID-19 control measures are not satisfactory, they will consult with us further and take any appropriate measures they see fit."
Boro director Mick Davison added: "We are obviously delighted with this and look forward to welcoming supporters on the 17th against Nantwich.
"We have worked very closely with Whitby Town on this as we are both in the same situation. We have had great support from both Scarborough Borough Council and North Yorkshire Trading Standards in presenting a case for the return of supporters, and we want to thank North Yorkshire Public Health for considering our joint submission and discussing the details with us.
"We obviously realise that this is still a fluid situation that can be reviewed at any time, but we can now make plans for the release of season tickets and the sale of the remaining tickets for our upcoming home games. The key message here is that we want supporters to come to the ground and feel safe.
"As such, we will be releasing important information about Covid-safe procedures at the ground that supporters must adhere to if we are to have the continued support of Public Health. Having fans back will be excellent but we must all work together to keep it that way."