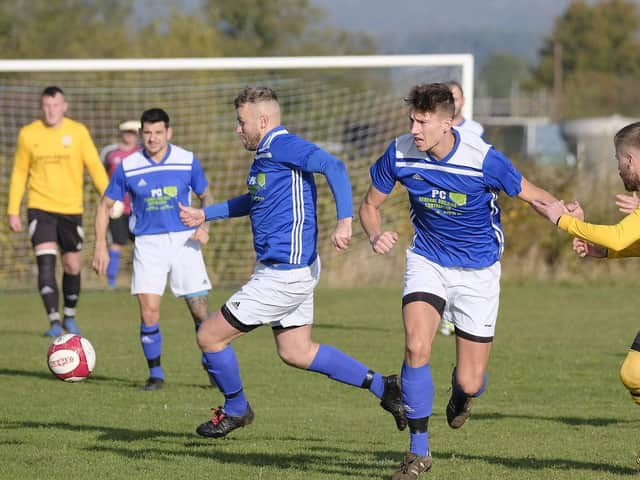 Trafalgar (blue kit) and holders Newlands are in quarter-final action on Sunday morning
Holders Newlands will look to continue the defence of their crown when they host Normanby Hall CC.
Dan Sheader's side secured their place in the last eight after beating local rivals Valley 5-4 on penalties after a 1-1 draw back in December 2020.
Player-boss Sheader is relishing the cup clash.
He said: "The lads are really looking forward to getting back at it.
"We had a training session last week and have a friendly this week so hopefully our fitness levels will be good.
"The side we're playing look like they'll be decent, they got knocked out in the semi-finals last season so should be a strong team.
"We're all looking forward to getting back to it and trying to defend the trophy."
Trafalgar have an illustrious history in the competition and player-boss Mikey Barker is keen to see that continue when they take on Yarm Town.
Barker said: "They haven't lost a game this year so it should be a good test for us.
"It would be nice to get through to the semi-final, we are all up for the challenge.
"We have got a strong squad out, Billy Logan and Lewis Taylor can feature, but Sam Pickard and Curtis Rose are away."
Angel Athletic await the victors in the semi-finals after Thornaby Roundel conceded their cup clash at the Flamingo Land Stadium.
Boss Dan Jones said: "It's a blessing and a curse really as I would have liked us to get some more minutes in, but I can't complain as it's nice to know we have a date to work towards for another big game.
"The lads are really ready for football to be back so we will be getting some friendlies in and be ready for whoever we face.
"Hopefully Newlands and Trafalgar are joining us in the semis and as a town we can continue to dominate the competition as we have for years."