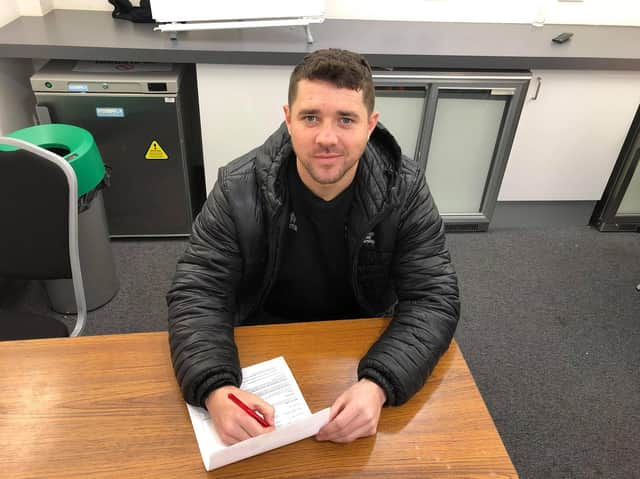 Ryan Blott
Blott, 31, who bagged over 250 goals for Boro, left the club three years ago to join Pickering Town.
But after departing the Pikes a fortnight ago, Blott was invited back into the Boro fold by boss Darren Kelly.
"It feels weird to be back, but it is very exciting," said the striker.
"Obviously my role from when I was first here will be a bit different, but I'm looking forward to be able to have an impact, both on and off the pitch.
"I'm working hard to get myself to where I need to be. I've been training with the lads and I've enjoyed it.
"After speaking to Daz about how he sees me having an impact within the club, it was something that I couldn't turn down.
"I had a few offers after Pickering, but I have a deep affiliation with Scarborough Athletic and I needed something that excited me."
Leaving Boro three years ago was one of the hardest decisions Blott has had to make in football, but he now feels that he comes back a wiser player.
Blott, who also runs the club's Under-19s alongside Denny Ingram and works at the Scarborough Football Scholarship, added: "I didn't want to leave when I went to Pickering, it was just circumstances the led to it.
"The years at Pickering were really enjoyable, helping them to get promoted was a big achievement for a club of that size.
"I always wanted to come back to Scarborough, but I lost a certain drive playing wise when I went into the management side of things.
"Through injuries I haven't played too much, but i still have plenty to offer and I know that I can give something to the club.
"Pickering was a difficult gig. Moving into management, trying to get players and seeing the other side of things was a good insight and will stand me in good stead for the future.
"With the managerial changes at the club I felt the time was right for me to find a new challenge, which has led me back to where it all began.
"Now it is all about focusing on helping Scarborough in any way possible to achieve their short and long term goals."
Boss Darren Kelly added: "Ryan is obviously very highly thought of at Scarborough being the club's top goalscorer of all time.
"I played with him for the club, so I know what he brings to the changing room and on the pitch.
"We invited him down to training and he looked fantastic, so bringing him in was a no brainer.
"He gives us options because he can play as a number nine or a 10. I look forward to seeing the impact that he will make for us."