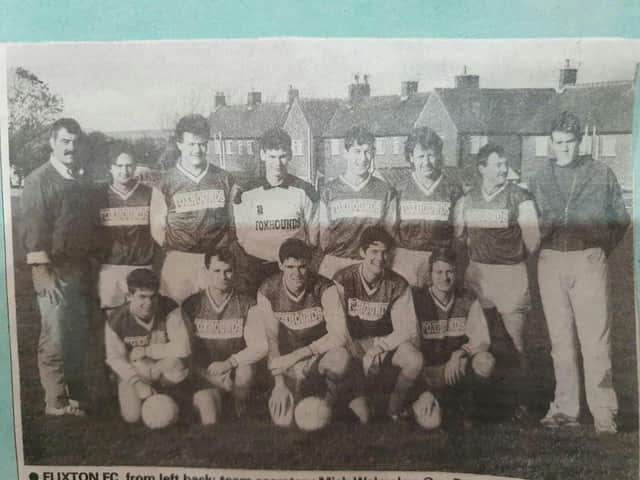 Manager Mick Walmsley, back row, extreme left, lines up with his Flixton FC team in the 1990s
Mick was involved with football, cricket, darts and snooker teams since the early 1960s, playing, managing and holding many other roles in a variety of clubs.
Son Steve said: "He played football for Italia (based at the Old George Hotel), Staxton (early 1960s), Filey, Flixton, Mere Club and Scarboro Amateurs.
"He also played for Boro first team in the midland league in the 1960s before getting injured! He first saw my mum at the old Athletic ground, she was serving tea there, 58 years marriage was to follow."
The teams he managed included Flixton FC in the 1970s, 1980s and 1990s, Hunmanby United in the 1990s, Filey Under-16s in 1986/87, Folkton & Flixton CC 2nds and the Folkton & Flixton CC Darts & Doms team.
Steve added: "He left school and went straight to Plaxtons to work, working there for 44 years.
"He also liked a microphone in his hand, doing dozens of after-dinner speeches for numerous football and cricket clubs, Plaxtons retirement dos, weddings. He also worked behind the bar at Foxhounds and Hunmanby club.
"He also ran Flixton youth club for years, which helped bring all the kids up in the village.
Mick Walmsley is pictured in the Staxton FC 1962-63 team, front row, third from right,
"Luckily my dad got to see his beloved Flixton CC win the Village KO at Lords in 2018 after nearly 50 years of trying."
The tributes to Mick have been flooding in on social media.
On Twitter, the Scarborough & District Saturday League Tweeted: "The league are extremely sad to hear of the passing of Mick Walmsley Flixton stalwart, a great sporting man and true gent who will be greatly missed. Our thoughts are with all Mick's family and friends at this sad time. R.I.P Mick."
The Scarborough Sunday League also Tweeted: "The Scarborough Sunday league are very sad to hear about the passing of Flixton sports field stalwart Mick Walmsley. Our thoughts and deepest condolences are with Mick's family and friends at this sad time. RIP Mick."
Steve Richardson, of Seamer CC, Tweeted: "Sorry to hear of the sad loss of Mick a great bloke and friend to many. He will be sadly missed not only by his own family, but all of us who were lucky enough to have known him. Condolences to all the family from all at Seamer Cricket Club. Rest in peace."
Folkton & Flixton CC also Tweeted: "Another legend has left us this morning. Mick Walmsley a giant across local sport as a whole, a wonderful man with a story for everyone. A man who could never be replaced, who so many owe a thanks to, our thoughts with his family at this time."
The AndyHire Scarborough & District Evening Cricket League paid their respects on Twitter.
They said: "We've received further desperately sad news today as we have learnt that @FandFCC stalwart & big supporter of all local grassroots sports Mick Walmsley has passed away. Our thoughts & prayers are with his family, friends and all within the club."