"We're home and we want to stay home" - Scarborough Athletic chairman Trevor Bull's open letter to Boro fans
Ourselves and most clubs in our league are now facing uncertainty and financial crisis amid these unprecedented times.
Monday, 30th March 2020, 9:45 am
Updated
Monday, 30th March 2020, 9:49 am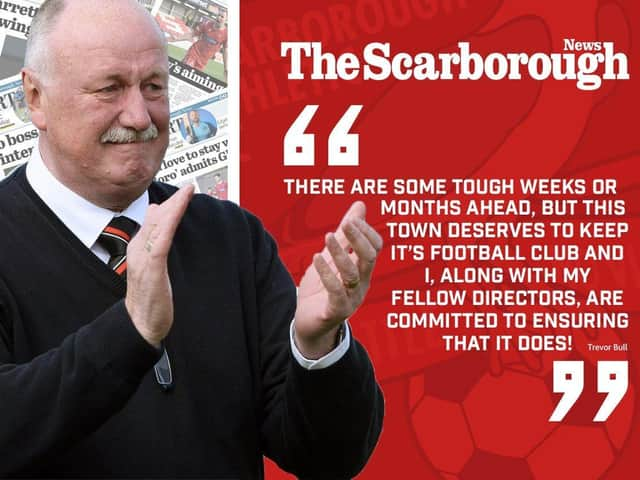 Boro chairman Trevor Bull's open letter to fans
At present no one can predict how long it will be before any sort of normality returns to either football, or life in general, in our town or any other.
One thing I can be certain of though, is that our board of directors, members, supporters, and sponsors, in fact any Seadog anywhere in the world will be fighting hard to save our club.
We lost Scarborough FC in 2007 and Scarborough Athletic waited 10 long years to return to playing in the town.
Boro chairman Trevor Bull
"We're back and we want to stay back" is the reason we are working so hard to achieve our goal.
As we are 100% fans owned, this time it is completely in our own hands to save our club.
We started this season by setting a prudent budget that would give us a shot at promotion whilst at the same time delivering a small surplus.
This is clearly not going to happen now and we find ourselves with zero income and bills to pay.
As a result of us not playing the last four home games of the season along with having to cancel two major fund raising events we have lost in the region of £40k revenue.
Unfortunately the Government's announced grant schemes to help leisure businesses are based on the rateable value of business premises and as we rent our ground we are not eligible.
This is a difficult time for our players and their families, however we were in a position to pay all of our staff last week and we are working hard to find a way to honour our commitments going forward.
Darren Kelly is keeping them regularly updated on the situation and it's great credit to our players and management that some have already made donations towards our survival.
The good news is that we've received offers of support from groups and individuals.
The first to step forward were the Valley Bar Seadogs who have done a great job arranging supporter travel to all our away games this season.
They've set up a fundraising site and as I write this they have already raised a fantastic £3k towards saving the club.
We have also received donations from individuals along with offers of help from people with expertise in the situation we find ourselves in.
We need to raise money quickly to get us to the point where our season would have finished because after that, our running costs will be minimal until we're told that football will start again.
For our supporters during this time they will be missing their normal Saturday activity so to coincide with our missing home games, we will be presenting a "Virtual Match" online where it will be possible to purchase your Match Day Ticket, Golden Gamble ticket, a virtual drink and some virtual chips.
During the 90 minutes there will be plenty of Boro themed online entertainment.
Other ways people can get involved are, most importantly becoming a member shareholder of the club and having a say in our future, joining the Boro Draw, buying a brick or joining our newly created 2020 Club which offers a 10-year premium membership package.
There are some tough weeks / months ahead but this town deserves to keep its football club and I along with my fellow directors are committed to ensuring it does.
If anyone feels they can help in any way please get in touch.
Finally, A big thank you to Daniel Gregory and the team at the Scarborough News for their support at this time.
They are helping our fundraising efforts by producing Podcasts featuring our Boro heroes from across the decades to be part of our virtual match day package.
This alongside the excellent coverage in the paper makes them a great media partner in these difficult times.
As I always say "support those who support the Boro" so pick up a paper this week a keep up to date with all that's happening in "Boro World".
Stay safe everyone and let's hope the Flamingo Land Stadium along with our wonderful town is back to normal as soon as possible.
Chairman, Scarborough Athletic FC