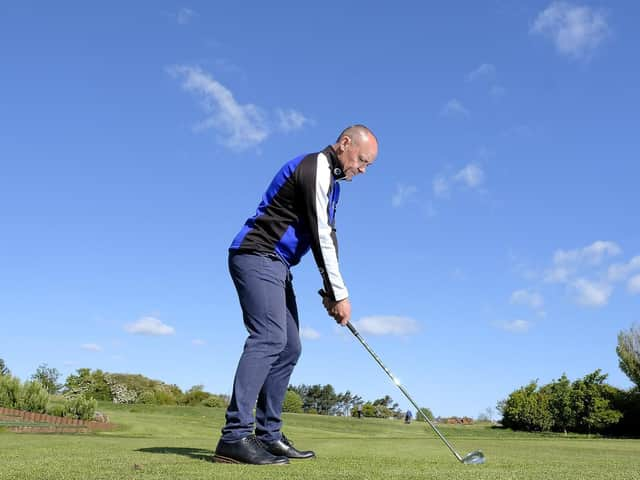 Scarborough's North Cliff Golf Club's.Andrew Wells plays a shot Photo by Richard Ponter
Dave Holborn, who is a North Cliff Golf Club committee member, said: "North Cliff has seen a significant upturn in membership since the Covid-19 lockdown was eased.
"We were able to maintain above the national average at our subscription renewal time in April, and since then have focused on attracting people that haven't been members of clubs before.
"This has been mainly done through our Apprentice Scheme which we have targeted towards people whose sports are not being played.
"This has now attracted over 50 new apprentices including large groups of cricketers, footballers and rugby players, and we continue to see new members each week.
"North Cliff has also seen a lot of new category 1 golfers join the club (below 5 handicap), which will strengthen our scratch league teams and drive up quality and competition amongst our members.
"North Cliff is very much open for business and we are seeing a huge amount of new people getting into playing golf, helping with fitness and overcoming social and mental challenges we've all faced during the lockdown."
South Cliff have also seen a surge.
Club manager Shaun Smith said: "Since we re-opened mid May we have had over 60 new members, this is double what we would normally expect.
"This has brought a welcome cash boost to the club which is going some way towards replacing the loss of income from visitors during the lockdown.
"We will be reopening our bar and catering facilities on July 4 and with the hotels and pubs in town also reopening we expect to be very busy with members and visitors."
The Yorkshire Union of Golf Clubs have reported encouraging figures from the majority of their 183 member clubs.
"Golf is flourishing after a period of time when the courses were closed and nobody could play," said Jonathan Plaxton, secretary of the Yorkshire Union.
"The true picture will emerge at the end of the year after those clubs that have a financial year ending in April report half-year uptake in October, and those that run for the calendar year report at the end of December."