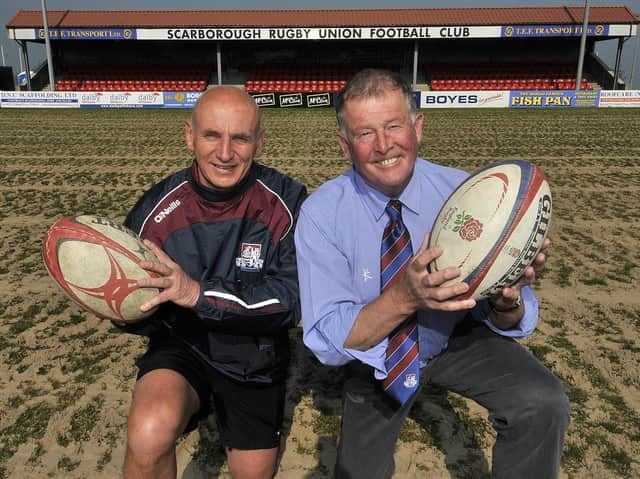 Scarborough RUFC's Mike Holder (right) with coach Simon Smith
The club are able to put out three senior teams with a strong ladies outfit, much to the delight of Holder.
He said: "The teams we field are strong and always give 100%, the numbers who are wanting to get involved are fantastic and continue to make the club special."
Having appointed Stuart Smyth as the club's new youth development officer at the start of the season due to Jimmy Perrett leaving the club, they continue to attract players of all age groups.
"We currently have 21 different age group teams which is superb," he added.
"Half of our first team are local and this offers inspiration for youngsters and supports the youth policy we put in place.
"It's all dependent on coaches helping run the sides and continuing to focus on improving the players."
Holder wanted to thank the 60-plus volunteers who continue to help and support the club throughout the season.
He added: "Without parents, coaches and helpers we wouldn't be able to function.
"They continue to give hours at training and matches and it really does make us a club of the community and that's what were about."
Simon Smith's side have had a positive couple of seasons, narrowly losing to Blackburn in a play-off final at the end of last season and despite losing key players during the off-season, Holder believes they have recruited well.
Holder said: "With players moving on it was a little bit of a worry, but we needed to ensure that we recruited properly and in the right areas.
"Simon's come in and had a huge impact but despite suffering with injuries, Matty (Jones) and Tom (Harrison) have got the players together to build a strong team."
Individuals like Phil Stewart and Nick Ingham have worked under Holder and continue to assist him in making key decisions.
"They've done a superb job and continue to work hard," he added.
"As soon as the role became too big for me I knew that having support would be necessary and would ensure that all areas of the club are taken care of."