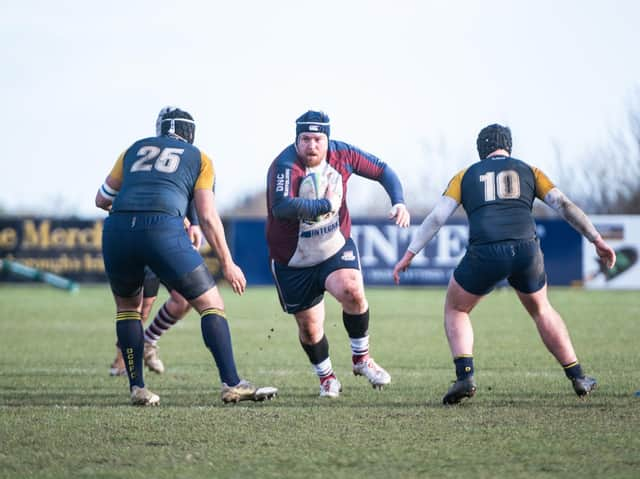 Scarborough RUFC in action during their win against Durham City last weekend
Both sides met at Silver Royd back in November, as tries from Jonty Holloway, skipper Drew Govier, Jordan Wakeham and Stuart Smyth helped Simon Smith's side to a commanding victory.
Driffield were edged out 23-17 at promotion chasing Cleckheaton last weekend but will be confident of returning to winning ways as they have a superb home form, losing only one game this season at home.
Scarborough beat the in-form Durham City 21-12 on Saturday, as a much improved second-half performance helped them push 10 points clear of the relegation zone.
Simon Smith has made just the two changes with Stuart Smyth dropping out of the team with Angus Frend his replacement and Sam Jackson returning to the bench.
Scarborough beat Driffield 36-13 in the reverse fixture at Silver Royd back in November in a game marred by a serious injury to Aussie Benny Blackall.
SCARBOROUGH RUFC: 1. Nino Cutino, 2. Matty Jones, 3. Joe Nellist, 4. Luke Brown, 5. Will Rennard, 6. Will Leah, 7. Euan Govier, 8. Drew Govier, 9. Jordan Wakeham, 10 Tom Ratcliffe, 11. Angus Frend, 12. Billy Parker, 13. Komiti Tuilagi, 14. Jonty Holloway, 15. Tom Harrison. Subs: 16. Tom Read, 17. Jordan Holloway, 18. Sam Jackson.
This weekend sees the return of 3 o'clock kick-offs.