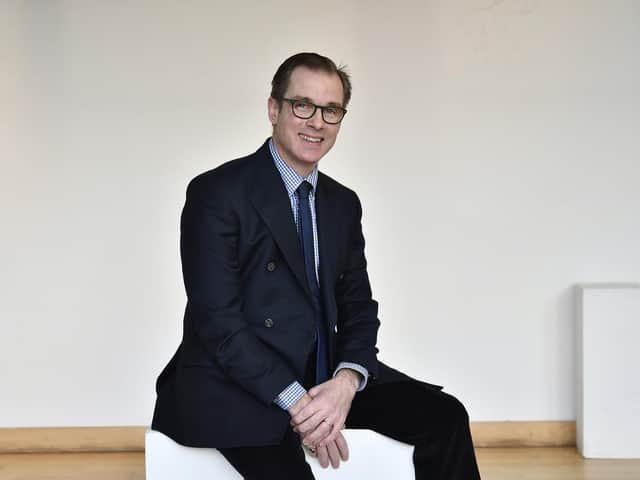 Andrew Clay
What was working from home like?
As chief executive of Scarborough Museums Trust it my job is to support, encourage and lead by example. I am fortunate to have a fabulous team who are all dedicated to what we do. The management team and I continued to work and our big message was though the buildings were closed Scarborough Museums Trust/Woodend had not shut. In a strange way, this has been one of our most innovative periods of activity.
The Rotunda Museum, the art gallery and Woodend were experiencing a period of change anyway so the lockdown has enabled us to give more time to things like policies and procedures, systems and processes.
How did it differ from going to the office every day?
My wife works for the NHS so I've had to be at home three days a week for my youngest daughter six-year-old daughter Jennifer. I also have two dogs – Hugo is a 10-year-old labrador and Edie is an 18-month-old pug – so you can image the office at home was very different. Our house is quite small but I do have a study which we call the Quiet Room, which is very much my room, so is crammed with old furniture, books and pictures. There's a log-burning stove for winter months. I have a penchant for antique needlework so it's comfy in a vintage sort of way. My commute is down the stairs via the kitchen, interrupted by dog walking and home schooling – which I'm completely rubbish at.
How did you keep in touch with what is going on in your world?
Emails, social media and news feeds. I've tried to limit my exposure to news and I get very grumpy having to listen to endless so-called armchair experts. The trick is to catch up infrequently and try to filter out the white noise. I'm a visual learner so I've always liked Instagram.
Images can speak a thousand words so I'm drawn to this type of communicating. I like Facebook. At the Trust we have moved all our programming and learning activities online and the results have been compelling. We're connecting with new and interesting audiences which is exactly what we're here to do.
Have you had time to 'step off' the the treadmill of routine and look at things differently?
Gardening has also been a bit of a secret passion. When I was little I had a little patch to tend which I loved. Jennifer has enjoyed our neighbours' gardens when we've taken the dogs out for a walk. There's one garden populated by gnomes and every time we pass we wave to the lady who lives there.
I would like to think society will change as a result of Covid-19 – less greed, more compassion. One thing I do know is that culture is an essential ingredient to our recovery. We have the assets and expertise to make an important impact on our community's recovery.
There is an exhibition of vintage seaside posters on at Woodend until September 27. The venue is open seven days a week and entry if free.