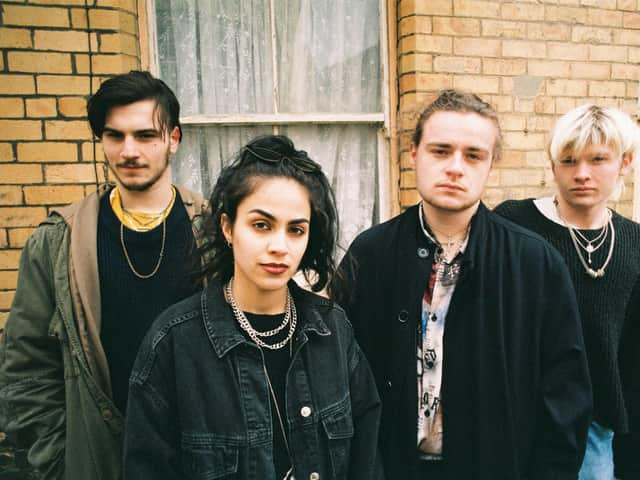 Scarborough band Pleasure Centre launch new single.
The band is made up of four friends, Aneela Siddiqui, Charlie Hunter, Fredi Dixon-Lenton, and Billy Bostanci, all aged 19.
Originally formed in 2019 by Aneela and Charlie, they have already gained a lot of engagement with BBC Introducing on BBC Radio York, with their debut track Disease Machine gaining track of the week.
Blue (Bertha) which is scheduled for release on April 30, is an important milestone for the band as they feel that this is the first song they have made where they have really come into their own.
Band member Charlie said: "We really feel like we now know the direction we want to go in, and this new track is just the start of that journey.
"Lockdown was actually quite useful to us, even though it was difficult not being able to meet up, doing things over the telephone we found we were all able to concentrate more on our individual contribution to the music.
"When you are all together, sometimes it is easy to get distracted and not be able to fully explore your own ideas and thoughts, so we found it quite useful to do things differently."
The band describe their style of music as shoegaze/alternative rock and are influenced by bands such as Slowdive, The Ninth Wave, The Stone Roses, Duster, and Nirvana.
Charlie said: "We all use multiple instruments and therefore we are not very linear, which is the way we like it.
"Exciting times are ahead, and we would love to help to boost the general music scene in the Scarborough area.
"Some big corporations have already shown interest in developing the music scene in Yorkshire, it seems to be the new interest hub for new-wave music."
To find links to all Pleasure Centre social media channels and music click HERE