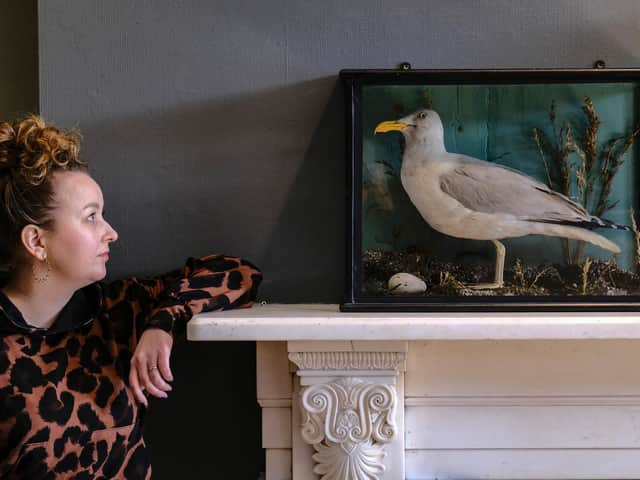 Martha Cattell with one of the exhibits in the new display due to open in May
Animal Hauntings can be seen from Tuesday May 18 to Sunday September 12.
Objects on display will include the tunny fish which was a favourite exhibit for many when the gallery's neighbour, Woodend, was a natural history museum, examples of taxidermy including a pair of the now-extinct passenger pigeon, and equipment used by the 'climmers' who used to abseil down local cliffs in search of seabird eggs.
Tunny fishing and climming are the subject of two films from the Yorkshire Film Archive which are also part of the exhibition, alongside moving image by internationally renowned artist Fiona Tan and by the exhibition's curator, artist Martha Cattell.
Part of the Animal Hauntings exhibition
Cattell said "The exhibition is inspired by Woodend's past a natural history museum, and by the book Arts of Living on a Damaged Planet: Ghosts and Monsters of the Anthropocene, an anthology of work by 20 eminent writers.
"Humans have long been fascinated with and reliant on non-human animals for food, transport, clothing and as pets.
"We are haunted by past connections to animals and many of the objects within the collection reflect this. With more than 35,500 species currently threatened with extinction, this exhibition uses objects and moving image to highlight the entangled relationships between animals and humans, and offers ways of looking with animals, and not just at them."
Scarborough Museums Trust will run a series of events inspired by the exhibition, which will be announced on its website and social media channels in the coming weeks.
The crab is part of a new exhibition at Scarborough Art Gallery
Animal Hauntings will run alongside two other exhibitions at Scarborough Art Gallery on the same dates: Scarborough: Our Seaside Town and Laughton's Legacies.
The venue has been awarded the VisitEngland 'We're Good to Go' industry standard mark, signifying that it adheres to government and public health guidance with regard to Covid-19. All three exhibitions are on the ground floor, and are fully wheelchair-accessible.
Entry to Scarborough Art Gallery is by annual pass, which costs £3 and gives unlimited entry to both the gallery and the Rotunda Museum for a year.
Opening hours for Scarborough Art Gallery are 10am to 5pm, Tuesday to Sundays plus Bank Holidays.
New exhibition at Scarborough Art Gallery opens from May 18