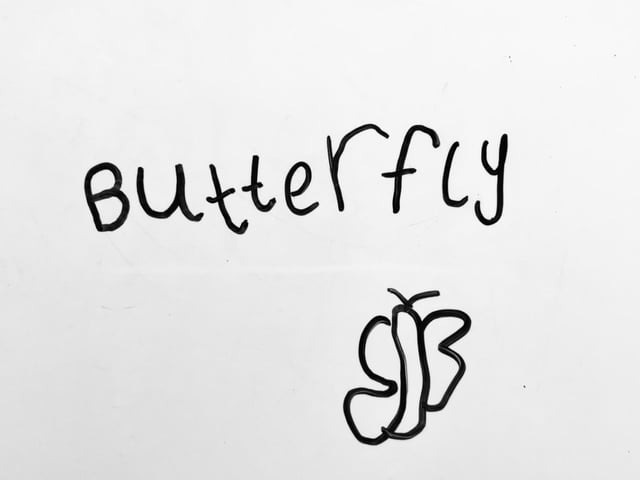 New film made during lockdown
Wanja Kimani's Butterfly is filmed from the perspective of two children adjusting to life during lockdown, and collects encounters from their daily walk.
The film, which will be about six minutes long and is suitable for all ages, can be seen on the Museum's Trust's YouTube channel
One of its highlights will be a performance of Over the Rainbow on violin, piano and accordion by two music teachers from their doorstep.
Wanja said: "We heard beautiful music coming from the house one day and put a note on the door to ask if we could film the following day. It's not something we would usually have heard – all of these things are coming together because we're all forced to be at home.
"What can we learn from listening even closer to our natural world, which seems to be revelling in our absence? How can the small but magnified details of our journey change how we engage when all of this is over?
"In this digital commission, I am exploring objects from the natural world through the eyes of children, who instinctively collect and curate everyday objects simply by noticing them.
"The title, Butterfly, sums up spring for me: a sign of new life, light and a reminder that things are working even when we don't see them. It's something that my youngest has just learn how to draw and is so proud of it."
The Trust would like Butterfly to be accessible to everyone: the film includes audio description and captioning, for those who might find this helpful. A transcript is also available to download.
Wanja said: "Thinking about how this work will be accessed has made me pause and reflect on how the tools I use can be used to enrich experience of diverse viewers. It made me consider how my work may be viewed and what different audiences may need to engage with the work.
"By embedding access in the process, the work has allowed me to experiment with how different senses engage with work, with the second part of the work attempting to level out the point of entry."
Through film, textiles and installation, Wanja Kimani's work explores memory, trauma and the fluidity within social structures that are designed to care and protect, but have the potential to mutate into coercive forces within society. She imposes elements of her own life into public spaces, creating a personal narrative where she is both author and character.
In 2018, her performance Expectations was included in the Laboratoire Agit'Art presentation during Dak'Art Biennale of Contemporary African Art. In 2019, she presented her work at Art Dubai and as part of a group show, Yesterday is Today's Memory, at Espace Commines, Paris, France.
Butterfly is one of a series of new digital commissions from Scarborough Museums Trust as part of its response to the current crisis. The Trust has asked artists including Wanja, Kirsty Harris, Jane Poulton, Feral Practice, Jade Montserrat, Lucy Carruthers, and Estabrak to create digital artworks to be released online across a range of social media platforms over the next few months.