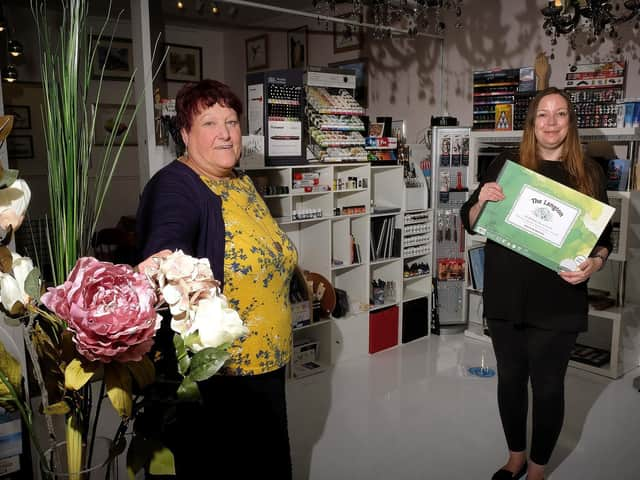 Delia Prudence and Jae Bostock in the bigger Art Room
She opened her new premises in Falsgrave Road earlier this month after having to delay the move because of the coronavirus pandemic.
The new site has more shop area, a separate workshop, studio area and lots of wall space for displaying originals.
"I am glad I've done it," said Delia. "It has given me the opportunity to move forward."
The death of her father four years ago made her look at life differently and she took up paint brushes for the first time since school to help her through the grieving process.
Delia, who has epilepsy, gave up a career in accountancy three years ago and started an art supplies business at Spital Farm Craft Centre in Staxton.
She opened the original Art Room, also in Falsgrave Road, two years ago with £100 of stock of paints and other artists' supplies including canvas, paper and ink.
"It just grew and grew," said Delia who paints landscapes, seascapes and animals in watercolours.
Graphic designer Jae Bostock came on board with bespoke greeting cards and, like Delia, host workshops.
"Lots of people during the lockdown have turned to creative activity as it is a great way to stay calm and focussed," she said.
"I have suffered with epilepsy since I was 22 and I was a management account for most of my working life stressful and lots of health issues.
"I gave it all up to start my own business painting and that progressed to art supplies due to a lack of local sources and I prefer local shopping than online."
During lockdown Delia has been giving free on-line classes and is now looking forward to hosting the real thing once more. "I love being able to supply local artists and also do workshops for beginners.
"The shop has become a hub for art and it is great to see children enjoying it.
"My health has improved ten-fold and I hardly have a seizure now. Art can be a fantastic natural cure for loneliness, nervousness and lots more.
"People can come to the Art Room for free advice, they can try out products and learn a new creative outlet," she said.
She also offers free local delivery.
"I am proud of how far we have come. I have had lots of help from my husband Phil.
"It just proves there is light at the end of the dark tunnel.
"We still have away to go but the Art Room is here to help the local community through to the good times again."