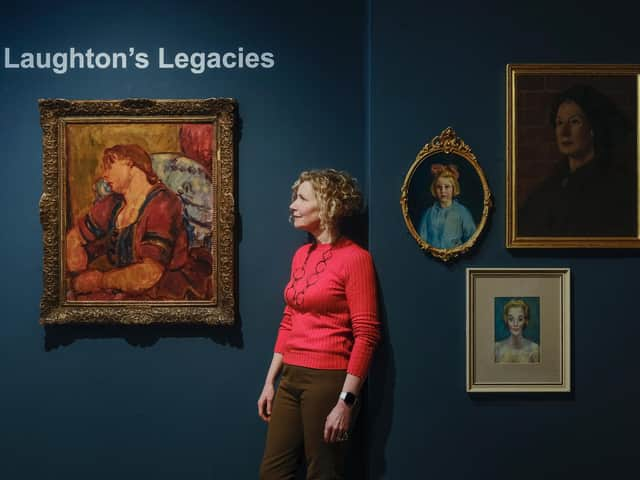 Curator of the exhibition Dorcas Taylor
Laughton's Legacies can be seen from Tuesday May 18 to Sunday September 12.
Tom Laughton, who died in 1984, donated a large number of works to Scarborough Art Gallery in three stages – each dedicated to one of his three wives.
Laughton was never media-shy and wrote a book about his experience of running hotels in Scarborough, including the Royal, which is still operating today, and the Pavilion, which stood opposite the town's railway station and was demolished in 1973. Pavilions by the Sea included a foreword from family friend Graham Greene. Tom also contributed to exhibition catalogues on his art collection.
One of the paintings from Tom Laughton's collection
However, as Curator Dorcas Taylor said: "We find out a lot about Tom Laughton – his interests, opinions and anecdotes – but his three wives remain largely invisible.
"This display is the start of a longer research project to put Laughton's three wives back in the picture. Do we know what they thought about the artworks their husband collected? Did they meet the artists he patronised? Did they have a say in what artworks were purchased? We know so little about them and we may never know, but it is good to question the male gaze behind these bequests."
The 12 artworks on display include some rarely seen works on paper by French artist and sculptor Henri Gaudier-Brzeska, and Edward Bawden. Alongside these are portraits of Laughton's three wives, including a pastel drawing of Isobel as a child by Leeds-born artist Philip Naviasky.
Scarborough Art Gallery has been awarded the VisitEngland 'We're Good to Go' industry standard mark, signifying that it adheres to government and public health guidance with regard to Covid-19. Laughton's Legacies is on the ground floor, and is fully wheelchair-accessible. Visitors to the gallery for the foreseeable future will be asked to book a slot via the Trust's website: www.scarboroughmuseumstrust.com - details will be posted shortly.
A painting from the collection of Scarborough hotelier Tom Laughton
Entry to Scarborough Art Gallery is by annual pass, which costs £3 and gives unlimited entry to both the gallery and the Rotunda Museum for a year. Opening hours are 10am to 5pm, Tuesday to Sundays plus Bank Holidays.