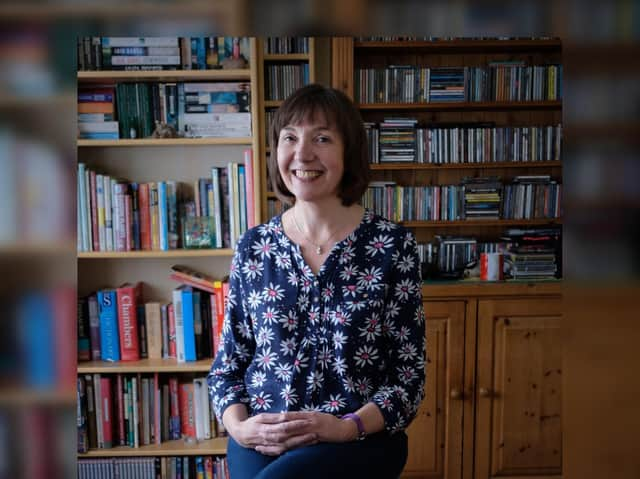 Author Glenda Young
A host of individuals and organisations helped Glenda with the research for The Girl with the Scarlet Ribbon - a family saga of secrets and love set in 1919.
Help with the book came from Scarborough's Writers Circle, historian and musical theatre director Tim Tubbs, owners of Eat Me, now based at the Stephen Joseph Theatre, Stephen Dinardo and Martyn Hyde, Scarborough Maritime Heritage Centre, Scarborough LIbrary, the Grand Hotel staff and Scarborough History Society.
" It was a delight and a pleasure to spend time there researching old Scarborough and seeing it through different eyes," said Glenda.
She visits Scarborough regularly and married to Barry at the Stephen Joseph in 2011.
"We chose the theatre because we knew it very well, having visited the theatre many times over the years to watch plays.
"We knew how beautiful it was inside. In fact, the Stephen Joseph is the reason we holiday in Scarborough so often these days.
"As soon as we get their brochure through the post, we book shows we want to see, book our favourite B&B, La Baia, and line up a few long weekends in Scarborough.
"We'd also eaten in the gorgeous art deco dining room at the theatre many times and decided that we'd really love to be married there and have our wedding breakfast in that amazing room.
"Our wedding was a little theatrical as we're both huge Coronation Street fans and so we had the Corrie theme tune played as we walked down the aisles inside the McCarthy theatre space.
"This was wonderful as the theme tune made our guests laugh, none of them were expecting it and we hadn't told a soul.
"After the registrar married us we skipped off the stage to Morecambe and Wise' Bring me Sunshine and at the wedding breakfast instead of table numbers we had a Corrie theme with tables named after characters and the top table was the Rita table.
"It was a lot of fun, very informal and friendly and the staff at the Stephen Joseph really looked after us and made it a day to remember forever. In fact, it's our ninth wedding anniversary in October this year and we're booked in for dinner at the Eat Me Cafe in the theatre dining room, so we'll be celebrating our anniversary in the same room as we eat our wedding breakfast in."
Glenda, who lives in the north east, is also the author of Belle of the Back Streets, The Tuppenny Child and Pearl of Pit Lane.
The Girl with the Scarlet Ribbon is centred on Glenda's home village of Ryhope, near Sunderland.
"It's the most dramatic of my books so far and includes a shipwreck on Ryhope beach and a concert at Sunderland's Victoria Hall," she said.
It starts when a newborn baby girl is found abandoned with nothing but a scarlet ribbon tied to her basket is found by Ada Davidson, housekeeper of the wealthy McNally family's home, the Uplands.
Sworn to secrecy about the baby's true identity, Ada names her Jess and brings her up as her own. When Ada passes away, grief-stricken Jess, now 16 , is banished from the place she's always called home. With the scarlet ribbon the only connection to her past, will Jess ever find out where she really belongs.
It was published by Headline books and is available in paperback now.