Filey phone box removal ends popular book borrowing project
A community library in a Filey phone box has come to an abrupt end.
Monday, 10th August 2020, 1:40 pm
Updated
Monday, 10th August 2020, 3:43 pm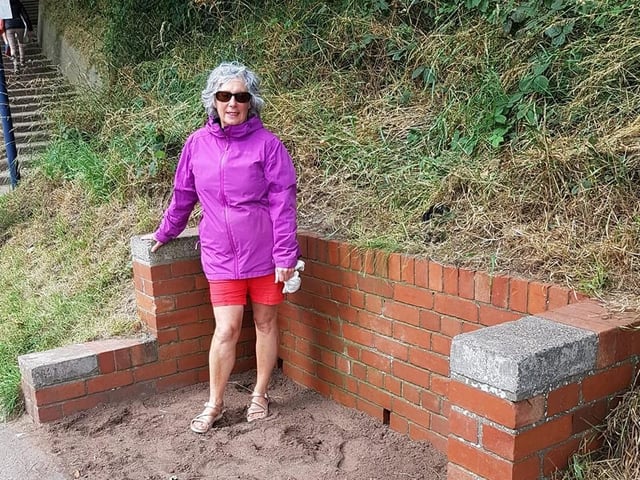 Stephanie Luxton at the site where the phone box was removed.
The Book, Borrow and Return project in the disused phone box at the bottom of Church Ravine had been running since March and proved a huge hit.
Donated adults and children's books were there for people to read and then bring back for others to enjoy.
One kind resident even offered a shelving unit to help organise the books.
BT workers came and removed the phone box, leaving the scheme without a home.
Stephanie Luxton, who came up with the idea, said: "The response to the project has surprised me. Lots of people have used it."
She spotted the phonebox near the beginning of lockdown and thought a community library would be a good use for it.
A sign inside, dated April 2019, read that the box would be removed but as it was still there, she gave it a good clean, washed the windows and started publicising the idea on Facebook.
"I had the idea that since it hadn't been moved, I'd commandeer it," said Stephanie, a retired building society worker who moved to Filey last year.
She added she has been in touch with BT to find out of the books that were inside the phonebox can be recovered.
She is hoping to find a new home for the project so that it can continue.
Stephanie is also exploring ways of making the area where the phonebox was into a community vegetable and herb patch.
BT announced last August that 37 phone boxes in the Scarborough Borough Council area were to be removed.
The firm had offered some for sale for just £1 to be used as a local asset.
Speaking at the time, Rick Thompson, Payphone Planning Officer for BT said: "Overall, the use of pay phones has decreased 90 per cent in the last decade.
"The need to provide payphones for use in emergency situations is diminishing all the time, with at least 98 per cent of the UK having either 3G or 4G coverage.
"This is important because as long as there is network coverage, it's now possible to call the emergency services, even where there is no credit or coverage from your own mobile provider."