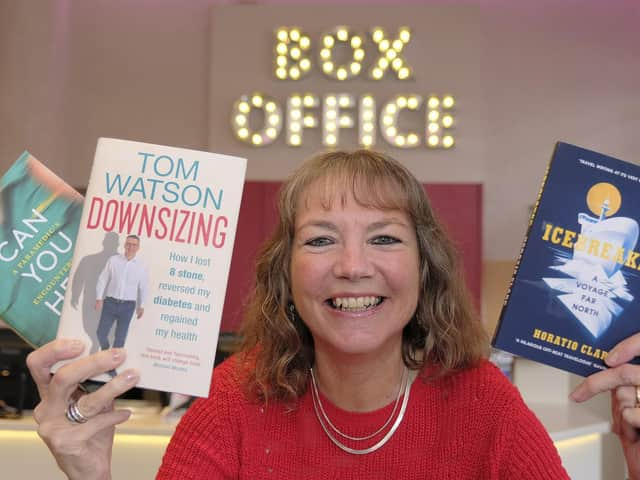 Festival director Heather French
First to sell was Horatio Clare's seafaring travels at Scarborough Lighthouse on the Saturday.
Award-winning writer Louise Doughty is proving popular with her chiller dinner at the Crescent Hotel the second sell out.
There is still a chance to see her at the festival Sunday papers event. She shares stage with Tom Watson and Books by the Beach patron Helen Boaden.
James Runcie, creator of the Grantchester series, is the third sell-out.
Other highlights of the programme include Scarborough-based Egyptologist Professor Joann Fletcher. She presents Ancient Egypt: Secrets from the Coffin on the Friday.
Events with international hostage negotiator Terry Waite and former Labour Party Leader Tom Watson are selling well and Samantha Ellis talking about Anne Bronte's Scarborough connections is proving a big draw.
Festival director Heather French said: "I'm thrilled that this year's lineup seems to be creating great excitement and general appeal.
"I've tried my best to bring a variety of high profile authors to Books by the Beach but also a range of subjects and interests."
This is a year for personal stories ranging from espionage writer Charlotte Philby – granddaughter of famous double agent Kim Philby – to filmmaker Chris Atkins' prison diaries of HMP Wandsworth.
"We've tales of daily emergencies from every day hero paramedic Jake Jones and a miracle survival story from desert hiker Claire Nelson," said Heather.
"I'm particularly excited to meet fiction author Maggie O' Farrell.
"I'm a big fan of her writing and can't wait to read her latest book Hamnet - a heart stopping story behind Shakespeare's most famous play.
Jenny Eclair will bring the curtain down on the event at the Spa on Sunday.
Jenny will be chatting to Helen Boaden about her new book Inheritance.