Writer Joe Coates looks forward to the launch of his 10th book inspired by Scarborough's North Bay Railway
Children's author Joe Coates is looking forward to the day when he can launch the 10th book in a series about Scarborough's North Bay Railway.
Monday, 27th April 2020, 11:37 am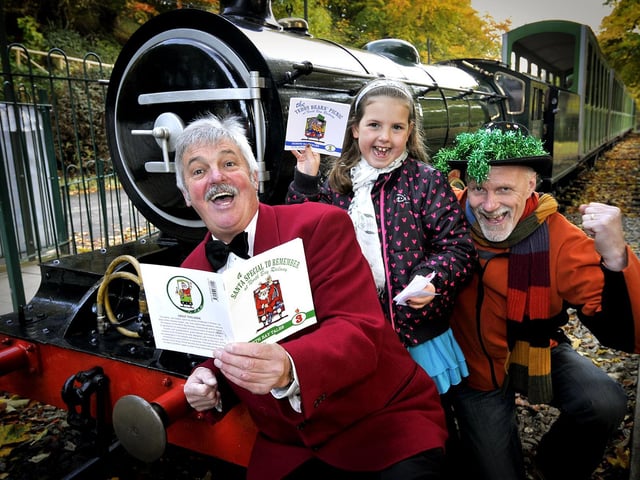 Joe Coates at an earlier event
All Your Favourite Engines at North Bay Railway was all set to launch at the attraction when the pandemic closed all amenities and shops.
The setting is an engine gala day, where all the engines are running: Neptune, Triton, Poseidon, Robin Hood and Georgina. The theme is, Which is your favourite engine? There's a back story of the day last summer when Kylie Minogue, on the day she was to perform at the Open Air Theatre, went on the train. The event gained global publicity.
"One day the much-missed North Bay Railway will open again. One day the book will launch, and there'll be a series of 10," said Joe.
Joe lives near the railway and can hear the trains from his garden.
"Scarborough is a great place to live," he said.
"My favourite part of the town is that tide coming in and out, sometimes placid, sometimes awesome. I have always loved the seaside. My next favourite part of Scarborough is North Bay Railway. I have always loved the romance of engines.
"I have waved at hundreds of trains since I moved here. Eleven years ago I wrote a story about children travelling on the train. A Teddy Bears' Picnic at North Bay Railway. Little did I know that it would become a series of 10. I kept a traditional style. Every story is believable, though I concede some are unlikely."
He said book 10 had been slow in the writing. "Many amendments had been needed to get everything right, making sure the book sat neatly alongside the previous nine, making sure the story gives the children happy memories of their train rides at North Bay Railway," he said.
He thanked Mike Springall from McRay Press, images provided by Bernard Dixon and North Bay Railway, chats with ticket man Ted Lancaster, one of the main characters and operations director David Fardoe from North Bay Railway for their help in finishing the book
The books in the series are: A Teddy Bears' Picnic, A Birthday Surprise, A Santa Special to Remember, Donkey Alert, Percy the Cat, Jake and a Snake, The New Steam Engine, Tunnel Trouble, A New Driver's Cap and All Your Favourite Engines, all at North Bay Railway.
The books are only available from Joe and North Bay Railway ticket office, which is closed until further notice.