Cult classic Flash Gordon remastered and re-released - where you can see it
Flash! Saviour of the Universe – has been given a digital make-over to celebrate its 40th anniversary.
Wednesday, 12th August 2020, 10:40 am
Updated
Wednesday, 12th August 2020, 10:44 am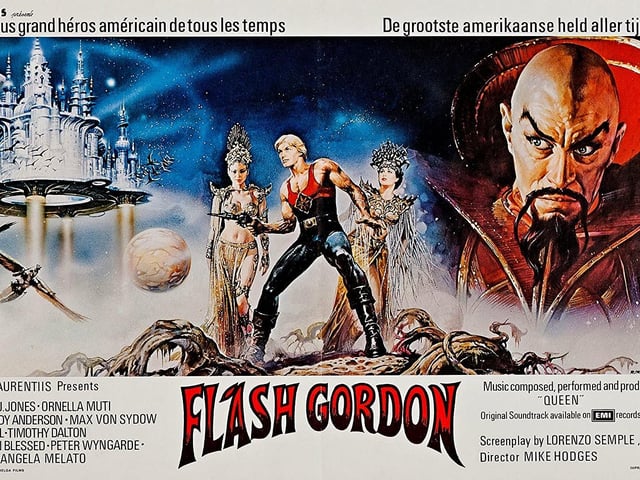 The movie is in cinemas now
Flash Gordon – the camp crusader – is back in cinemas with its costumes and soundtrack brighter, bolder and louder than ever.
The remastering of the cult classic also includes the removal of the strings keeping the Hawk Men in flight.
On its original release the sci-fi fantasy bombed except in the UK where audiences 'got' its fey humour.
Football player Flash Gordon and travel agent Dale Arden crash land on the plant Mongo ruled over by the evil Emperor Ming who is plotting to destroy Earth.
Directed by Mike Hodges, the film starred Sam J Jones, Melody Anderson, Topol, Max von Sydow, Timothy Dalton, Brian Blessed and Ornella Muti.
Despite the serial starring Buster Crabbe which preceded it, the film was based on Batman with the writers wanting to recreate the camp style.
Brian Blessed, who played Vultan, king of the winged Hawk Men, is still in the business and has said that Flash is one of the Queen's favourite films.
Timothy Dalton played Prince Barin. The character was based on Robin Hood – hence the Lincoln Green tunic and tights.
Dalton went on to play James Bond in Living Daylights and Licenced to Kill.
Sam J Jones played Flash, still working he has never achieved such fame again.
Melody Anderson, Dale, retired from acting and is a now a social worker.
Max Von Sydow – Ming – died earlier this year and Peter Wyngarde, the gold-masked General Klytus, died two years ago.
Famous in the 70s for roles in Department S and Jason King, his career went into melt down after revelations about his private life.
Topol, Hans Zarkov , is most famous for his role as Tevye in Fiddler on the Roof and Italian actress Ornella Muti, Princess Aura, is still working.
The most often quoted lines from Flash Gordon include Blessed bellowing: "Gordon's alive!" and Dale screaming at Flash as he fights Barin: "Flash , I love you but we only have 14 hours to save the Earth."
Its title song Flash will always be the most famous element of the film.
It was recorded by Queen.
The film is in cinemas across the UK now and at the Stephen Joseph Theatre, Scarborough, on Thursday August 20 and Saturday August 22.