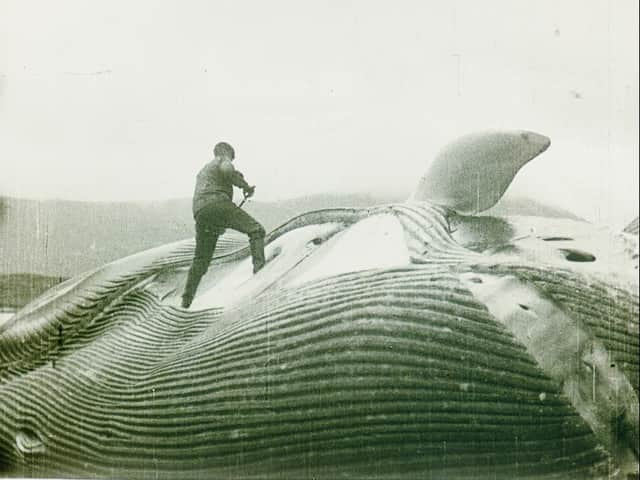 Random Allusions to Whales is on Tuesday July 28
The programme is inspired by a series of whalebones within the archives of Scarborough Museum Trust.
Gallery Screenings Online, on the last Tuesday of each month from 7pm, features films selected to give audiences a new perspective on both visiting exhibitions and the permanent Scarborough Collections. The films are followed by a question and answer session.
The next event, on Tuesday July 28 from 7pm, is entitled Random Allusions to Whales, a quote from Herman Melville's epic 1851 novel Moby Dick.
The event will hosted by film curator Martha Cattell and will consider how filmmakers and artists have connected to and with whales' bodies and the landscapes that they exist within. Films will include Fiona Tan's Leviathan, Marina Rees's Osseous Landscapes and Surface and an extract from Isuma TV's Arviq.
After the screening there will be a question and answer session with artists Marina Rees and Fiona Tan, who will discuss their films and wider practice.
Martha Cattell says: "Whales have long been represented in film, text and image and our human relationship to them has been turbulent and varied. This range of films offers a global narrative on whales and the importance of them as a species to community and landscapes, and explores the mysteries and stories their bodies can still possess.
"We are also really excited to be joined by international artists Fiona Tan and Marina Rees for the post-screening question and answer session and also to be showing the work of Isuma TV, which represented Canada at the 2019 Venice Art Biennale."
Fiona Tan is an internationally renowned artist and filmmaker. Her work is known for its skilled crafting and emotional intensity, which often explores the themes of identity, memory and history.
Marina Rees's artwork is concerned with our experience and understanding of natural history. Drawing research material from fields such as natural sciences and social sciences, many of her projects involve working with museums or other collections.
Isuma TV is a project of Isuma Distribution International Inc, Canada's first media distribution company specialising in Inuit and Aboriginal films. It is a collaborative multimedia platform for indigenous filmmakers and media organisations. Each user can design their own space, or channel to reflect their own identity, mandate and audience.
Each Gallery Screening will have optional live captions from a stenographer; downloading the app version of Zoom is recommended for those wishing to use this function.
A 'social story' (or visual guide) will also be created, with illustrations by Scarborough artist Savannah Storm to explain the format and accessible elements of the screening.
Access to the event on July 28 is by password only, available, along with a link, by emailing Martha Cattell at [email protected] - please email the same address for access to the social story.
The introduction and question and answer will be available post-event on Scarborough Museums Trust's YouTube channel: http://bit.ly/YouTubeSMT