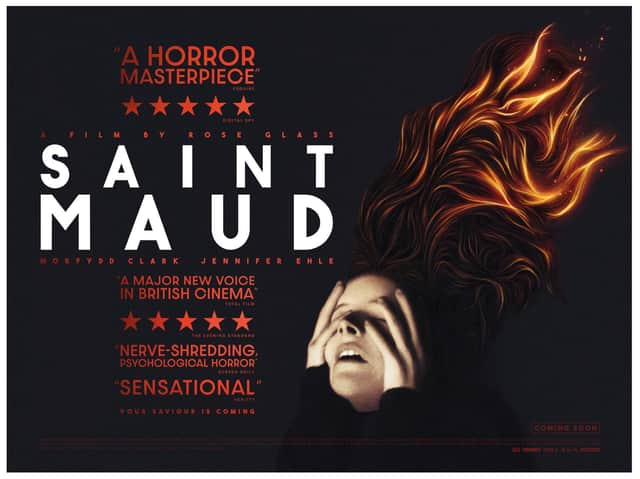 Saint Maud opens in cinemas across the UK today.
The town provides some of the setting for Saint Maud – the story of a young nurse assigned to look after a retired dancer who is convalescing in a grand house on the cliffs of Scarborough.
The story sees Maud's life unravel as she develops an obsession with her patient Amanda. Maud believes that God is communicating with her throughout the day and becomes convinced that she needs to save her soul before she dies.
Saint Maud was partly filmed in Scarborough and 80 local people were used as extras for scenes filmed in South Bay.
The movie's producers are Andrea Cornwell and Oliver Kassman.
Andrea said: "The setting for the film was always going to be a coastal town, which does to some extent represent the characters being on the 'edge'.
"Lots of different towns were scouted, but Scarborough had the cinematic scale that we felt would be fantastic on film."
Oliver said: "We filmed in a variety of locations, but mostly along the seafront promenade, there is a very dramatic final scene that we filmed on the beach itself just a couple of days before Christmas.
"We loved the arcades and the way the reflections worked in the wet weather.
"The eagle-eyed may spot a small nod we made to Taxi Driver here, as it felt almost like it had an American-vibe in terms of the neon and lights."
Saint Maud is the debut feature film of writer and director Rose Glass, who has been recognised by BAFTA as a Breakthrough Brit.
Rose studied film and video at London College of Communications and made her way to the National Film and Television School, where she made acclaimed short film Room 55 and began working on the idea for Saint Maud.
Maud is played by Welsh actress Morfydd Clark, who has previously starred in The Personal History of David Copperfield and Love and Friendship.
Amanda is played by Jennifer Ehle, who won a BAFTA TV award for Best Actress for her role Elizabeth Bennet in the 1995 television adaptation of Pride and Prejudice.
She has also starred in The King's Speech and has won two Tony Awards for her appearances on Broadway.
Andrea said: "The script didn't specify nationalities, so the fact that we have ended up with a Welsh Maud and American Amanda is purely a quirk of casting our two actors.
"Jennifer Ehle's character is a retired but once world-class dancer, so it was always the case that she could have come from outside, and we felt Jennifer's natural accent added an additional layer of glamour to the role.
"We also loved Morfydd's accent, and actually used a bit of Welsh later in the film, perhaps in a way that people won't immediately recognise, but again we adapted the role to fit her as she brought so many brilliant qualities to Maud."
Saint Maud had its world premiere at the Toronto International film festival last year and was scheduled to be released in the UK in May but was postponed due to the coronavirus pandemic.
The film has already received rave reviews.
Trainspotting director Danny Boyle described Saint Maud as "a genuinely unsettling and intriguing film, striking, affecting and mordantly funny at times, its confidence evokes films like Carrie, The Exorcist and Jonathan Glazer's Under the Skin."
Rotten Tomatoes review site says "A brilliantly unsettling blend of body horror and psychological thriller, Saint Maud marks an impressive debut for writer-director Rose Glass."
The cast and crew had little time to explore the town.
Andrea said: "I'm afraid film crews do tend to swoop in like the circus, so we had very little time to explore anything outside of our locations, however we did get to know quite a few bars and where to buy the best chips.
"We also invaded the theatre shows at the Grand a few times to singalong – so apologies to the brilliant dancers there who found themselves entertaining our noisy crew."
Both of the producers are big fans of the horror genre.
Oliver is about to start working on another project that is set to be filmed in Scotland and Andrea has previous experience working on a sci-fi horror film starring Liev Schreiber called Last Days on Mars which was shot partly in the desert in Jordan.
When we asked them if they have a favourite horror film, they both mentioned The Shining as a stand out masterpiece.
Oliver said: "Its a tough one, but I also love The Thing (1982), Nosferatu (1922), Rosemary's Baby (1968) and The Hills Have Eyes (1977)."
Andrea said: "I love lots of classic psychological horrors, as well as having a real fondness for cult films like The Texas Chainsaw Massacre.
"There are are some brilliant recent films, such as It Follows and The Babadook."
The film will be screened at Vue cinemas around Yorkshire and the North East from today and will be confirmed at further independent venues – including Scarborough's Stephen Joseph – around the region.