Alan Ayckbourn tackles AI in latest chilling yet compassionate play - Constant Companions - at Scarborough's Stephen Joseph Theatre
Warnings about the progress in artificial intelligence development have been raging – particularly this year – with experts predicting that robots will ultimately turn on their creators – us.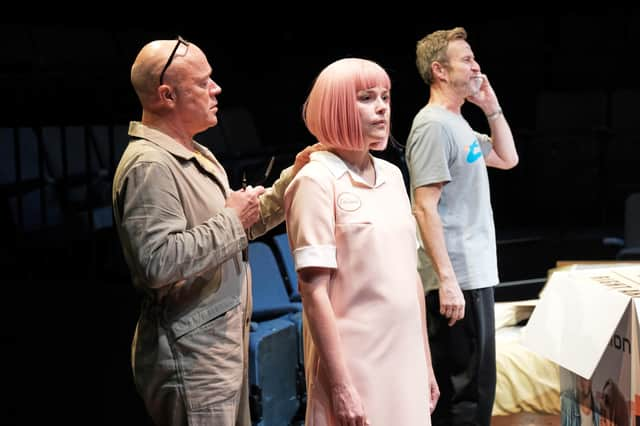 Time magazine carried an article from AI experts in May. It included the Twitter message posted by Dan Hendrycks, the California-based Centre for AI Safety's director.
Paraphrased, he said there are many important and urgent risks from AI, not just the risk of extinction; for example, systemic bias, misinformation, malicious use, cyberattacks, and weaponisation.
It's theme is 21st century, prophetic, profound and pertinent. It is set in the near future when companionship comes in Ikea-style self-assembly kits – with 'the pleasure is yours' next to a smiling couple written on the box as though it is sci-fi viagra.
There are rigid rules governing relationships between humans and androids – marriage between them is forbidden and those who co-habit are shunned. Life is clean-lined, hi-tech and well-dressed in a brightly colour-coded way.
Andy Cryer plays the lonely bachelor Don whose attempts to put together his mail-order robot are hilarious – it would ruin the play to go into too much detail. Safe to say – just like assembling a DIY bookcase, there's always a screw loose.
Leigh Symonds is the technician Winston who is hired to 'service' Naomi Petersen AI maid called Edie and with whom her employer's son has fallen in love. Tanya-Loretta Dee plays Mrs DeSantos, who naively thinks she is superior not only to Winston but her synthetic servant, too.
The relationship between disillusioned Winston and Edie is poignant and yet deceptive – Winston may be the one with the sonic screwdriver but just who is pushing whose buttons?
The plot also features Lorraine – a fabulously successful lawyer of a certain age – played with snappy aplomb by Alexandra Mathie – who is attended by an efficient and ambitious secretary played by Georgia Burnell.
JAN Sixty is the janitor of Lorraine's building, an android of indeterminate age. Richard Stacey – with his jerky head movements, forced laugh and Roger Moore-like raising of on an eyebrow – is the very embodiment of AI in need of an upgrade.
The play is about more than the rise of robots – it has more layers than showstoppers week in Great British Bake Off. Among science fiction and fantasy, Ayckbourn addresses other of his favourite themes.
They include battle of the sexes – including who has the last word in an argument, the power of women, the ennui of marriage, sex, love, infidelity, loneliness, ambition, dementia and mortality – the title is fiendishly clever in that regard..
No matter how technologically advanced we become, human frailties, foibles and fears remain the same and there are no cures for those currently in manufacture.
As serious as those subjects are – Ayckbourn wraps them in laughter, empathy and compassion. The ultimate message though is – be afraid, be very afraid.
Constant Companions runs at the Stephen Joseph Theatre from now until Saturday October 7. Tickets from the box office on 01723 370541 and online at www.sjt.uk.com