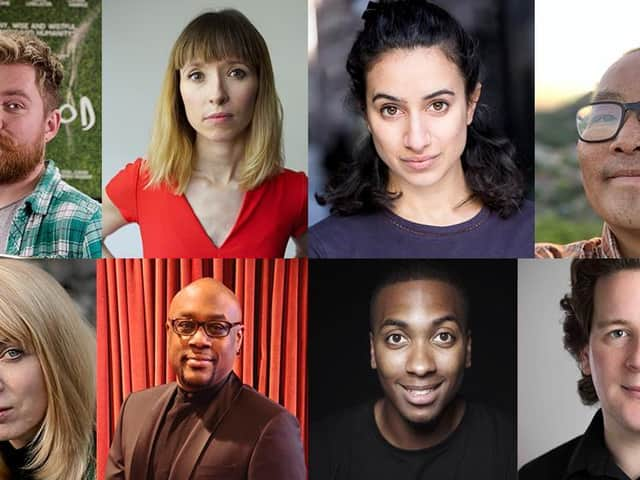 Experts will be leading the online classes
On Tuesday August 11, Thursday August 13 and Saturday August 15 the theatre will present three different sets of online classes aimed at different age groups.
Tuesday's event, for nine-to-13-year-olds, will feature movement and street dance with Marcquelle Ward, best known for his role as BB in ITV1's Britannia High.
Marcquelle made his West End debut playing the role of Rum Tum Tugger in Cats at the London Palladium in 2015 and was nominated for West End Frame's 'Best West End Debut' award.
He went on to reprise the role for the UK and European tour. Marcquelle played Jim Hawkins in the Stephen Joseph Theatre's Christmas show Treasure Island last year
The second session will be puppetry with Andrew Kim whose Todmorden-based company, Thingumajig Theatre, makes puppet plays and giant street puppets which are performed throughout the UK, Europe and beyond.
On the Thursday, those aged 14 to 18 will be able to learn about musical theatre with Alex Weatherhill. Alex has appeared in the West End, sung session vocals, performed in cabaret and toured the UK and Europe with musicals and light opera. As a musical director, orchestrator and arranger and now has over three dozen musicals to his name, taking him all over the UK and Europe.
Later that day, actor Alix Dunmore will lead a session on accents. Alix, who appeared in Stepping Out at the theatre last summer, is a professional accent, dialogue and vocal technique coach, and has worked extensively in radio, TV, film and voiceover.
On Saturday, aimed at adults, Shaun Matthew will lead a session on conducting an orchestra. Shaun has been the musical director of the Scarborough Symphony Orchestra since 2005, and has conducted with the BBC Philharmonic, Royal Liverpool Philharmonic and Chineke! Orchestra.
His class will look at all the beating patterns and related technical elements, score preparation and rehearsal techniques. Actor Frances Marshall, who will demonstrate how to apply acting techniques to public speaking, has appeared at the SJT in Alan Ayckbourn's Joking Apart, Season's Greetings and A Brief History of Women. As an actor and director, her work has involved a wide variety of venues and styles, including improvisation and immersive performance.
She has created and delivered workshops for Shakespeare's Globe and Historic Royal Palaces.
Each day will culminate in a performance poetry workshop led by Nadia Emam, who will also curate a filmed poetry performance to be streamed at 5pm on each of the three days; these will be available for public viewing on the theatre's website for a month.
Nadia was a member of venue's youth theatre and is now an actor, poet and director based in Sheffield, where she is a supported artist of the Crucible Theatre
. Last year she was awarded a placement with the Regional Theatre Young Director Scheme at the Stephen Joseph where she curated the sell-out poetry evening Still I Rise, celebrating female poets. Her debut poetry film won the WEX Short Film Competition and was part of BFI's Northern Exposure Short Film Programme.
The films will be made by award-winning Sheffield-based filmmaker Brett Chapman. Interested in stories about individuals and small communities, he focuses his work around people and their unique experiences. Originally trained as a journalist, Brett's work is not limited to a single genre or form. The use of obsolete and archaic technology in his films is a staple of his work and practice.
Course director Cheryl Govan says: "We've created an exciting, affordable and very wide-ranging and flexible programme with something for all ages and abilities. Participants can book for the whole day, or dip in and out as they please."
Tuesday August 11 (nine-13 years)
11am to noon: Movement/street dance – Marcquelle Ward
1pm to 2pm: Puppetry – Andrew Kim
3pm to 4pm: Performance Poetry – Nadia Emam
5pm to 5.30pm: Streamed Performance Poetry Film 1
Thursday August 13 (14-18 years)
11am to noon: Musical Theatre – Alex Weatherhill
1pm to 2pm: How to do accents – Alix Dunmore
3pm to 4pm: Performance Poetry – Nadia Emam
5pm to 5.30pm: Streamed Performance Poetry Film 2
Saturday 15 August (18+ years)
11am to noon: Conducting an orchestra, a beginner's guide – Shaun Matthew
1 to 2pm: Deliver that Killer Speech – Frances Marshall
3pm to 4pm: Performance Poetry – Nadia Emam
5pm-5.30pm: Streamed Performance Poetry Film 3