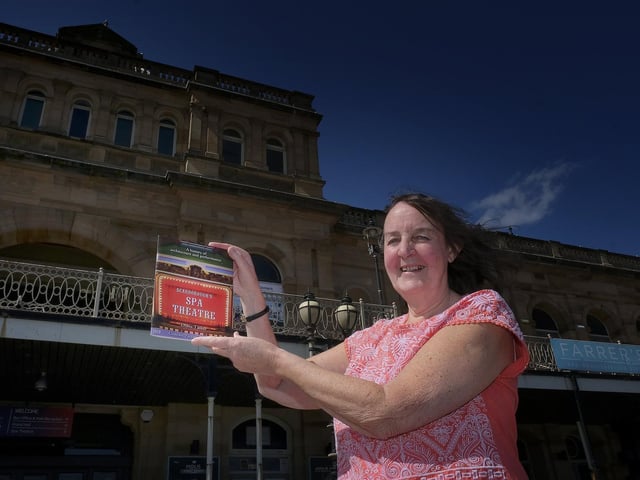 Author Diana Tasker
The book comes in the form of a theatre programme and is dedicated Scarborough impresario Tony Peers whose summer shows and pantomimes have graced the Grand Theatre for decades.
"I am pleased with the result," she said. The Spa is special to Miss Tasker. Her grandmother came to Scarborough in 1929 as a performer and revue writer with Murray Ashford's Bouquets Concert Party.
Her mother Joan took a temporary job in the Spa box office after she left school and there she met her husband architect Edward Clough Tasker. "I consider I owe my existence to the Spa," she said.
A season ticket holder for the Scarborough Spa Orchestra – not this year for obvious reasons – Miss Tasker has visited the Spa Theatre and Grand Hall concerts since she was a child.
In 1978 with the late Maurice Gayler, she successfully led the Save Our Spa campaign to rescue the Grand Hall from demolition.
With Patricia David, Miss Tasker was at the forefront of the fight to save the Futurist on Scarborough seafront.
Scarborough Spa Theatre: A History of Architecture and Performance is a 50-page gem full of facts, quirky quotes and nostalgia.
It begins with the architectural history of the complex starting in 1858 with the gutting by fire of Joseph Paxton's Music Hall and the subsequent plans to rebuild it.
There is a magnificently sniffy, snobbish snippet from Quaker W Rowntree. His quote is taken from a meeting in 1880. He snorted in indignation at the mention of the world 'culture' and told the meeting he had evidence of "immoral and improper entertainment" at the theatre which was bringing "persons of objectionable character" to the Spa.
He had heard tell that "seedy, lecherous louts were lounging around the Spa, leering at promenading ladies and "sundry, dubious and crude types had been skulking in the region of the theatre..."
The booklet is a culmination of research which stated with her student thesis when she was 21. She also produced an eight-page document on the Spa for an exhibition at the complex in 2009.
It is crammed with lists of shows – a curtain call of 100 years of concert party tradition from 1919 and the Follesques to 2019 and Tony Peers-produced Musicals Meets Variety.
A list of principal performers starts in 1880 with actress Lady Monkton and ends in 2019 with entertainer Tommy J. In between are Elsie and Doris Waters, David Nixon, Norman Wisdom, Billy Pearce and Scarborough legends Frankie Desmond and Linda Newport .
Miss Tasker thanked Tim Furniss from Scarborough Council graphics department for his technological know-how.
The book costs £6 and is available from the Maritime Museum Centre, Eastborough, Scarborough; Woodend, The Crescent, Scarborough.
Also from Miss Tasker, 7 Weaponness Valley Close, Scarborough, YO11 2JJ. Send your name and address and cheques for £7.40 made out to Miss DC Tasker.