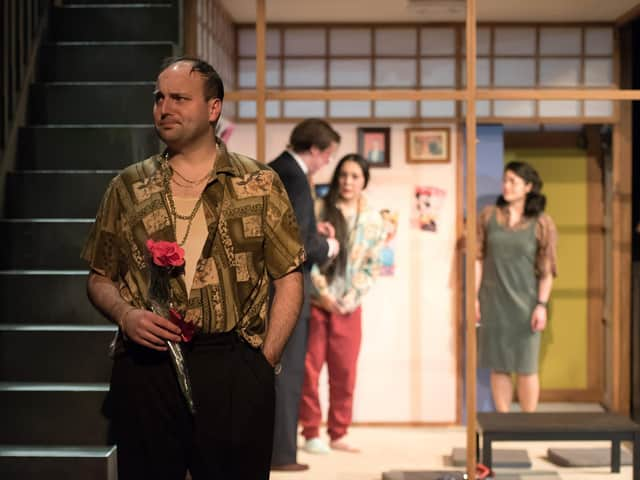 Madam Butterfly at Stephen Joseph Theatre in March
A young woman abandoned by the man for whom she sacrificed everything. But she is stronger than anyone imagined.
Retold from a female, East-Asian perspective, this Madam Butterfly is transposed to 1980s Japan, where traditional culture collides with a new digital age, and the intimate exploration into the heart and mind of a young woman is all the more poignant.
One of the best-loved operas of all time, Puccini's sublime music has been re-orchestrated to be performed by a diverse cast, accompanied by four live musicians.
With a new orchestration by Ruth Chan and new English libretto by director Poppy Burton-Morgan, Madam Butterfly is performed by Karlene Moreno-Hayworth, Mariam Tamari, Jonathan Cooke, Thomas Kinch, Jane Monari, Jan Capinski, Michael Chun Ting Lam and Ee Ping, with live music from Paul McKenzie, Richard Stagg, Alison Holford and James Widden.
OperaUpClose is an ambitious, inclusive, Olivier Award-winning touring opera company producing high quality, innovatively staged, unintimidating and affordable English language productions. It works with exciting composers, librettists, directors and performers to create productions which challenge and, where necessary, confront some of the sexist, racist or other outdated baggage which hampers otherwise great works of art.
Its mission is to show that opera is a vibrant, living artform that everyone can enjoy and be inspired by. There is a place for people of all genders, ethnicities, backgrounds and economic means as part of the audience, as performers, and behind the scenes. It encourages people unfamiliar with opera to try it by strategically breaking down barriers that prevent them from doing so.
OperaUpClose provides opportunities for existing opera audiences to engage with classic operas in new ways and discover new music and artists. It wants to diversify the audience and makers of opera, in turn resulting in the most exciting, resilient and relevant artform for the future.
Madam Butterfly can be seen in the Round at the SJT at 7.30pm on Friday March 13 and Saturday March 14.
Tickets, priced from £10, are available from the box office on 01723 370541 and online at www.sjt.uk.com