First look at Christmas show Beauty and the Beast at Scarborough's Stephen Joseph Theatre
Rehearsals are under way for this year's Christmas show at Scarborough's Stephen Joseph Theatre – a sparkling new adaptation of Beauty and the Beast.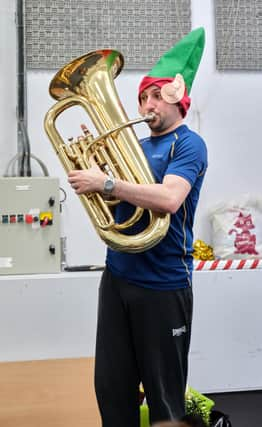 Amy Drake, Annie Kirkman, Oliver Mawdsley, Kiara Nicole Pillai and Charlie Ryan are directed by Paul Robinson in this new version, which has been adapted from Madame LePrince Beaumont's original story in typically anarchic fashion by Stephen Joseph favourite Nick Lane.
Welcome to Scarbolopolis, a magical town by the sea in need of a HUGE sprinkle of Christmas spirit! Enter a brave girl and her family, arriving in town ready to open a shop selling baubles, tinsel, and all things sparkly, shiny and lovely to brighten things up a bit.
But one day Dad goes wandering into Everdark Forest where the mysterious beast lives and doesn't come back. Our fearless heroine ventures into the woods on a rescue mission…From the team that brought you last year's hugely popular Cinderella, as well as Jack and the Beanstalk, The Snow Queen, Treasure Island, Alice in Wonderland, A (Scarborough) Christmas Carol and Pinocchio – a new adventure packed with silliness, thrills, spills, singalongs and more fantastical family fun than you can shake a sausage on a stick at.
Director Paul Robinson said: "A typically bonkers Christmas show from the fabulously festive brain of Nick Lane has become a December tradition at the Stephen Joseph, and this year is no exception."
Set and costume design is by Helen Coyston, with lighting design by Mark 'Tigger' Johnson.
The composer and sound designer is Simon Slater, the musical director is Alex Weatherhill and choregraphy is by Stephanie Dattani. Casting is by Sarah Hughes .
Beauty and the Beast is sponsored by Boyes. It can be seen at the Stephen Joseph from Friday December 1 to Saturday December 30.
Tickets are available from the SJT box office on 01723 370541 and online at www.sjt.uk.com