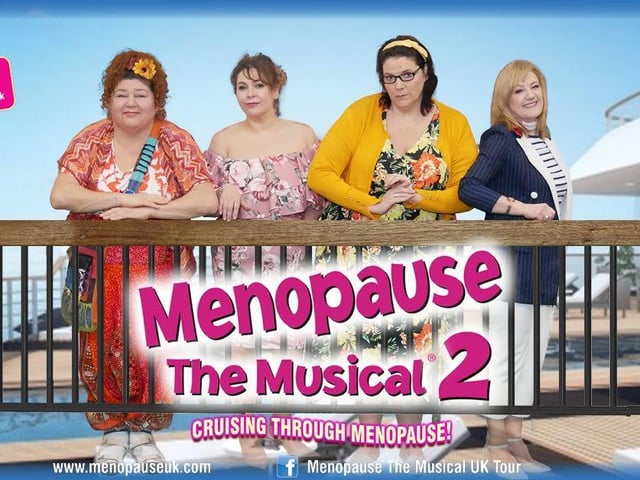 The show is on at Scarborough Spa and Whitley Bay Playhouse
The new show takes place five years after the first and Earth Mother, Soap Star, the Housewife and Power Woman, are all each facing a whole new set of challenges.
The original show has now been seen by more than 17 million fans across the world and has been translated into nine different languages proving.
As they ride the ocean waves, we get to surf their lives via a series of clever – and very funny - parodied songs.
But this new musical does ask key questions.
Does a woman need a man in her life to feel complete?
Is there any woman out there who hasn't found men, confusing, irritating and downright daft, with a very different view on what love actually means?
But what of the actors who play the parts? Can they empathise with their characters? Can they bring their own real-life experience to the roles?
Cheryl Fergison, who starred as Heather Trott in BBC soap EastEnders, admits she understands implicitly where her Earth Mother character is coming from.
"She and her husband have been having difficulties - she loves him, she hates him - she finds him so irritating because he can't seem to be able to open a can of beans unless she's holding the tin opener.
"We learn she's been quite angry, that she's really been looking around for something to throw at her husband's head."
But rather than fracture a skull and do jail time, Earth Mother realises she must take time out.
"Of course, she's been going through the menopause, but she discovers that isn't the only reason for her moods - it's her relationship.
"She's the one who's been keeping it all together for her son, and now she's reached a time in life which is "her" time. That's when she agrees to take a cruise with the girls."
London-born Cheryl, who has previously revealed her comedy talents in the likes of TV's Little Britain and Benidorm, acknowledges a great many parallels with her own life
"I've been thinking about this idea of escape a lot recently," she said.
"My son, Alex, has left home to go to university and it means I don't have to worry about feeding him anymore; I know he's living his life.
"Meantime, I'm also getting on with mine. I've moved from London to just outside Blackpool and over the summer I made new friends and I've enjoyed my new world.
"Life is now about me looking after me and my mind is in a good place.
"Years ago I read a book The Secret, which encourages you to write down your worries and I've sort of re-found this idea again. I'm reading it again - and taking the idea forward."
She isn't anti-men. "I've got some great men friends and my son Alex, who is gay, has a new partner and we all get on really great together.
"I feel a really proud mum. But sometimes relationships just don't work and when you reach the point where you feel you've given your all you have to walk away.
I'm not the type to give up easily on anything [this is a woman who taught herself to play ten musical instruments] but when I recognise something is gone, it's gone."
Her voice becomes upbeat: "I want to laugh again. And this show really reflects my life because I too realise it's about having friends around you.
"I've realised it's not about soaking up rubbish in a sponge. I've realised sometimes you just have to go out and get yourself a new sponge."
Nicole Barber-Lane, who starred in Channel 4 drama Hollyoaks as Myra McQueen, can understand why her Soap Star character has decided to take to the ocean waves with her chums.
"You have to re-think life as you get older," she said.
"I decided this year that I would be happy with who I am - and what I look like - whether it's fit - or fat.
"I'm fed up with being judged, and that judgment can come from other women as well.
"This new show is all about the support women can give each other and the wonderful feeling which results from this friendship. I want to feel the way they do."
A key theme of the show is the male-female divide - and how best to negotiate troubled waters.
"That's so true," says Nicole, who has starred as Sally Bowles in Cabaret.
"We always think we can read our partners' minds, but men and women do, generally think differently.
"It's the way we're wired. And as a result, I do understand the cynicism that comes about.
"I've found out that when I come up with the ideas in the relationship I'm seen as a pusher or a nagger. And then we get this sense of feeling that others are doing things to us."
Why does she feel relationships peter out?
"It's like when you get into a new house it's all shiny and new and you love it. But then we don't quite tidy up as much - or paint it as much as we should."
She said, grinning; "Or it's like when you buy a new outfit and you wear it a few times and then get fed up with it."
So, relationships are there to be discarded like a Primark top?
"No, I'm not saying that," she said.
"And I've had a lot to be thankful for in life. Hollyoaks, for example, has allowed me to live where I do, meet great people, have great experiences and have my children".
"And for this you can fill yourself up with gratitude. But you also must be happy with yourself. You have to think 'I am enough.' And if you look to others for validation that's where it all falls down.
"I'm learning. I'm not there yet but I'm getting there. And what's great about ageing is that you get to an age where you realise you don't know anything."
"What you do learn however is that it's so important to be around friends, people you can relate to.
"That's what I love about working on this show with others the same age. In Hollyoaks I was 'Mum' to lots of young people.
"Now I feel I'm being looked after, and everybody understands each other.; "It's very much like these women who head off on a cruise. I'm on a lovely journey here as well."
Rebecca Wheatley thinks the support the friends enjoy on aboard ship to be paramount.
"They're all escaping from something," says the former Casualty star.
"It's partly down to the fact they're post-menopausal, but while the first show was about hot flushes and temper tantrums and mood swings, now they are a bit older and they're starting to think about what the menopause has given them."
The menopause has given them chance to reflect.
Rebecca's character, the Housewife, we learn, has lost her husband. She has to convince herself that she doesn't need a man in her life.
"This is her way of gaining perspective by saying things like, 'Ok, my sex life may never have been that great.'
"But what's really going on in her head is she can't move on because she can't bear the idea of tearing off her clothes in front of a new man.
"You see, with older women there is a pressure to have new experiences, but it's so hard because the cynicism has kicked in."
Rebecca, who once appeared with drag artists in a West End club, is now a married woman with a teenage son.
"I'm happy and settled," she said. "But I'm aware of how difficult it can be for a woman to try and find the energy to have new experiences.
"And when you're older, what do you do with all the baggage we've accumulated?
"And the ability to suffer fools and make compromises is lost."
Rebecca recalls the grief involved in kicking off a new relationship.
"When you go into a relationship you are reactive; you remember the things that don't work.
"Then as you get older you are less adventurous than you've ever been, you go out less."
A knowing grin emerges; "Recently I realised that my husband and I had an empty house. I said, 'It's just you and me.' And my husband looked at me and said; 'Maybe we can get it back to what it was?' "And I said 'What? Going out all the time? Having lots of sex? I don't think so.'
"But I do want something else in a relationship. My character wants something else. She wants to be this all-powerful woman. She wants magic. We all do."
Will the cruise liner turn out to be a love boat for Rebecca's character?
"It will be lovely if that turns out to be the case," she grins. "But you'll have to wait to find out."
Eurovision success story Nicki French admits there is a real empathy with her character, Power Woman, the female who has put her career first.
We learn that Power Woman has sold her business. The woman with an Excel spread sheet where her heart should be has decided there is more to life than profit margins, that she's been cutting the costs on her emotional life.
"I do put work as a priority," she said with a mock grimace. "That's the way of things in showbiz."
Nicky's focus on her career hasn't always been welcomed by her partners.
"I was married but not anymore. And when I get together with men, I always warn them that I work a lot, in gay clubs, all over the place.
"I always work at Christmas time, for example, which my family can accept so we have a different day – Nicky Christmas – set aside for our get together."
Yet, there are men would not be happy with the partner away all the time?
"Yes, you do get jealous men," says the singer whose dance track "Total Eclipse of the Heart" topped the charts around the world in 1995.
"One of my exes had a problem once when he saw a picture in which a man had his arm around my waist. I had to point out that I was in a gay club."
The Carlisle-born performer smiles; "Ironically, these guys were more interested in my sparkly shoes than cuddling up to me."
Nicky, who was part of the original London Menopause the Musical production in 2007, points out relationships, can really require effort.
"There are some men who are proud you made it on your own, that love your work, but some blokes want a soft lady.
"I can be soft - but when it comes to doing things myself, I can be quite tough."
Career demands aside, would Nicky prefer to be in a cosy relationship?
"I'd love to have someone in my life," she gushes. "Someone to lean on. Someone who would say to me 'I will sort that out for you, I'll fix that shelf.'
"But it hasn't always happened. At least I've become great at DIY.
"But no, I'd love to be able to share all these experiences I have with someone. I'd love to be given a hug or have someone to open a bottle of wine with.
"Yet, I'm not complaining. I have so many great friends. And I'm blessed with a fantastic family. But I have to accept that because I love my career so much, being on your own can make you a bit of a control freak."
Tickets are now on sale from Scarborough Spa's box office: 01723 821888 or via www.scarboroughspa.co.ukIt is on at the Playhouse, Whitley Bay, on Wednesday April 22.