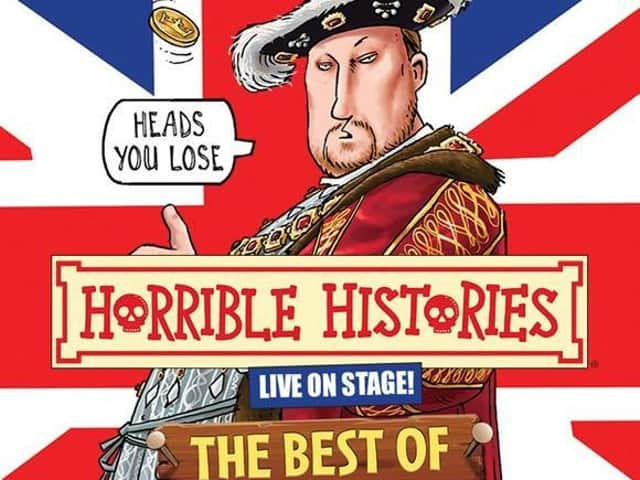 Horrible Histories - the Best of Barmy Britain comes to Bridlington Spa
This hilarious hit show is a gag-filled gallop through British history with two amazing actors playing multiple historical roles.
Can you beat battling Boudicca? Would you be a martyr for the Magna Carta? Will you lose your heart or head to horrible Henry VIII? Will Parliament survive gunpowder Guy? Dare you stand and deliver to dastardly Dick Turpin? Escape the clutches of Burke and Hare and move to the groove with party Queen Victoria!
These are just some of the fascinating characters audiences will discover in this splendiferously funny 65 minute show. History with the nasty bits left in!
The Best of Barmy Britain is written by Terry Deary and Neal Foster from Deary's bestselling Horrible Histories books. Terry Deary is the world's bestselling non-fiction author for children and one of the most popular children's authors in the country. He has written 200 books which have been translated into 40 different languages. His 50 Horrible Histories titles have sold over 25 million copies worldwide from China to Brazil!
Horrible Histories – The Best of Barmy Britain is directed by Neal Foster, design is by Jackie Trousdale, lighting by Jason Taylor, and sound by Nick Sagar, music by Matthew Scott and choreography by Kenn Oldfield.
Birmingham Stage Company are one of the world's top theatre companies for families. As well as fourteen years of all the Horrible Histories stage shows, they have also produced the smash-hit productions of Roald Dahl's George's Marvellous Medicine and David Walliams' Awful Auntie, Gangsta Granny and Billionaire Boy.
This fantastic show will entertain all ages with its hysterical historical journey through the barmiest bits of British history!
Perfect entertainment for those aged from 5 to 105.
Performance Times 11am, 2pm and 4.30 pm on Sunday October 11.
Tickets are available from bridspa.comPhone 01262 678258