Jurassic Earth Live to roar Into Scarborough Spa - how to book
A thrilling interactive show for dinosaur crazy families will roar into Scarborough this October half term.
Thursday, 13th May 2021, 2:53 pm
Updated
Thursday, 13th May 2021, 2:54 pm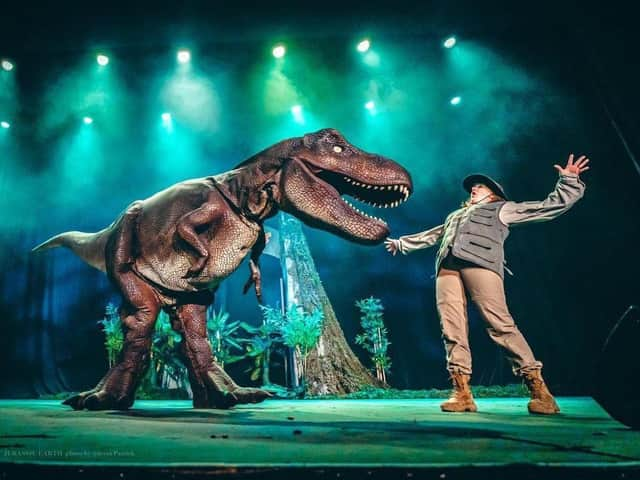 Jurassic Earth will visit Scarborough Spa this year
After a sold out in residency in Blackpool last year, Jurassic Earth Live is now set to go on tour and will visit Scarborough Spa for two shows on Saturday October 30.
Combining entertainment with education, Jurassic Earth Live is family-friendly experience that will bring the most magnificent beasts to ever roam our planet to the venue's Grand Hall.
Hosted by a team of wonderful Rangers, animatronics will bring dinosaurs from the Jurassic Era to life including Zeus-Europe's largest walking Tyrannosaurus Rex dinosaur at 22 feet long and 12 feet tall and Tank the Triceratops- the humorous Herbivore.
This is an unmissable opportunity to walk with a Triceratops, roar with a T-Rex, scream with a Spinosaurus and run with a Raptor.
The Dinosaurs have featured on ITV's Dancing on Ice, Don't Tell the Bride, Channel 4's Secret Life of Four Year Olds, Channel 5's Gadget Show, MTV & SKY and many more.
The show is the latest in a number of family orientated shows announced to visit Scarborough Spa later this year with CBeebies' favourites Sarah and Duck appearing on Saturday July 17 and The Little Mermaid The Musical tour calling into the Grand Hall on Saturday August 7.
This summer will also see the return of Magic Mike with his summer show and the Scarborough Spa Orchestra's popular Teddy Bears' Picnics.
Rachel Nicholson, Scarborough Spa's venue manager said: "After being closed for so long we are looking forward bringing the building back to life this year!"
Tickets for Jurassic Earth are now on sale from Scarborough Spa's website here