New musical The Little Mermaid comes to Scarborough Spa - how to get tickets
A-new musical adaptation of The Little Mermaid will dive into Scarborough Spa this Summer.
Wednesday, 24th March 2021, 1:54 pm
Updated
Wednesday, 24th March 2021, 1:56 pm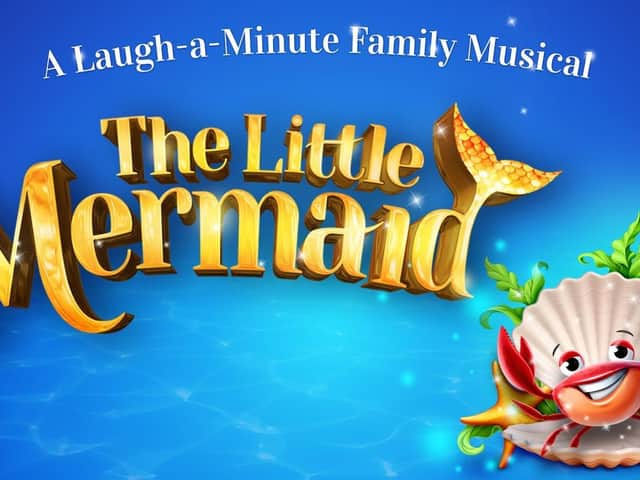 Little Mermaid comes to Scarborough Spa in the summer
The Little Mermaid: A Laugh-a-Minute Family Musical will call into the Spa's Grand Hall for two shows during the Summer holidays on Saturday August 7 at the family friendly times of 11.30am and 3.30pm.
The familiar tale of rebellious Ariel, a mermaid who only wants to explore the world above the waves despite being forbidden by her father King Triton, has been adapted for the stage by West End producers APL and includes a whole host of hilarious characters as well as the infamous evil sea witch, Ursula plus a chorus of sea creatures, zombie pirates, sailors and various flotsam and jetsam.
This hilarious 'underwater' adventure is a laugh-a-minute musical pantomime with stunning scenic design and spectacular costumes by David Shields, a memorable score you can sing along to and comedy suitable for the entire family.
Antony Stuart-Hicks, executive producer of the show said: '"The APL Theatre team are ecstatic to be bringing our hilarious musical panto to Scarborough this summer The production is designed by the West End's David Shields is being directed/choreographed by Jordan Langford, born and bred in Scarborough. We are currently assembling a superb cast and are so proud to be taking massive steps to return to live theatre and provide everyone, young or old with some well-earned laughter and a fantastic time at the Spa!"
Tickets go on sale via Scarborough Spa's website at 10am on Friday March 26: T