New play These Majestic Creatures at Scarborough's Stephen Joseph Theatre - fractious and funny look at the relationships between mums and daughters
The Stephen Joseph Theatre in Scarborough has always championed new work – now it is the turn of Emma Geraghty and her These Majestic Creatures.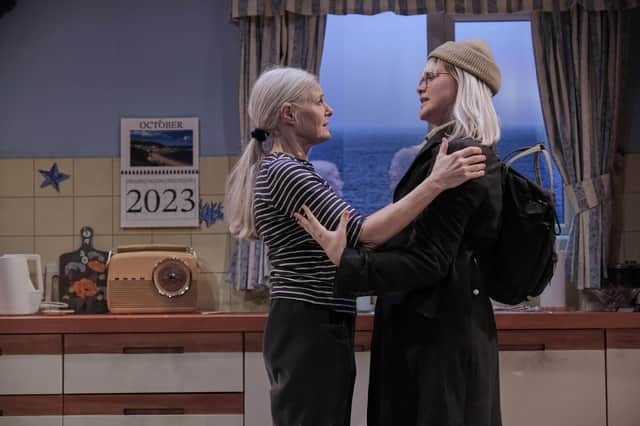 Actors Ingrid Bolton-Gabrielsen and Andrina Carroll are directed by Kash Arshad in the Scarborough-set two-hander which is on in the theatre's McCarthy studio.
A whale has washed up on the beach and Max Vaughan has come back to see it – or at least that's Max's story even though Max's mum Pam is not convinced.
The prodigal daughter's return also co-incides with the death of her grandmother Edith and she has agreed to write and read the eulogy.
As well as running a bed and breakfast, her mum Pam is somewhat of a professional funeral-goer – only this time it's personal.
The B&B has been in the Vaughan family for generations and Max's return brings up memories for her and her mum – few of them pleasant.These Majestic Creatures takes us back and forth between the past and present of the Vaughan family – relationships made of old photos, an inherited love of Strictly and insults that only a mother could throw.
Time changes are indicated to the audience by a flick of the calendar – we move from 2023 and the mum and daughter reunion through 1983, 2006, 2016 etc – each year containing a significant event.
The action takes place in the kitchen of the B&B – where copious amounts of cups of tea are dispensed and from which there is a view of Scarborough beach.
The two actresses – Ingrid Bolton-Gabrielsen and Andrina Carroll – play the women through different phases of their lives. Carroll is, at various times, Pam and Edith and Bolton-Gabrielson switches between Pam and Max.
These Majestic Creatures is a fractious, fragile and, occasionally, funny play about mums and daughters – and will resonate with those whose mother is not/was not their best friend – and find/found their grandmothers easier to get along with.
The men in the three women's lives are notable by their absence – and are there somewhere vaguely in the background, rightly or wrongly, maligned and undermined.
While the washed-up whale on Scarborough beach languishes, rots and, no doubt begins to attract flies and smell bad, inside the kitchen innocent conversations turn into arguments at the flip of a coaster.
Secrets and lies abound – and the past will raise its head despite the desire to bury it.
Max wants to talk about her queerness and gender identification while Pam thinks it is enough that she is accepting of her daughter's sexuality and changes the subject.
Edith and Pam fall out and stop speaking to each other altogether as accusations fly.
As well as relationships between mums and their daughters, Geraghty addresses generation gaps, nature versus nurture – can violence skip a generation – is love enough – getting old and, not to put too fine a point on it, the inconvenience of aging parents.
The play offers lots of food for thought in a running time, without the interval, of more than two hours.
The two actresses, particularly the more experienced Carroll, are mesmerising to watch as they switch roles and time zones. Their ever-shifting relationships remain real and believable.
These Majestic Creatures is on in the McCarthy until Saturday November 4.