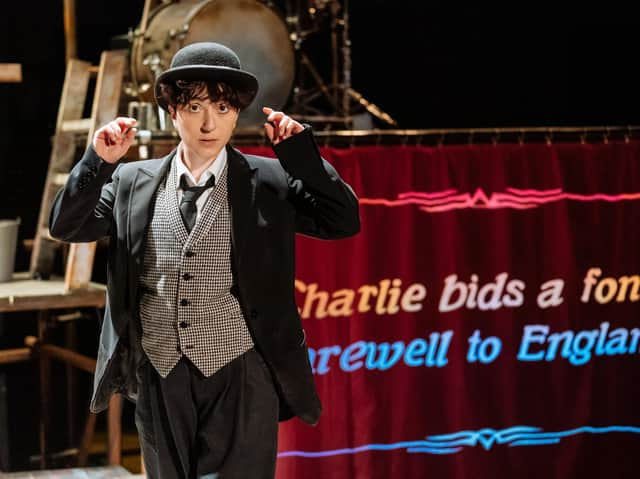 The play is on at the Stephen Joseph Theatre, Scarborough
Performed in Told by an Idiot's trademark visual style and playing fast and loose with the facts, The Strange Tale of Charlie Chaplin and Stan Laurel is no nostalgic bio-drama, but a homage to two Englishmen who changed the world of comedy.
The show includes an original piano score played live each night, composed by MOBO Award-winner Zoe Rahman.
In 1910, the unknown Charlie Chaplin and Stan Laurel set sail for New York as part of Fred Karno's famous music hall troupe.
They shared a cabin and then spent two years touring North America, with Stan as Charlie's understudy.
Stan returned home, later finding success with soulmate Oliver Hardy. Charlie developed his Little Tramp character and within five years became one of the most
famous figures in the world.
In Charlie Chaplin's autobiography Stan Laurel is never mentioned.
Stan talked about Charlie all his life.
The Strange Tale of Charlie Chaplin and Stan Laurel is written and directed by Paul Hunter, who said : "Told by an Idiot always seeks to inhabit the space between laughter and pain, so we were intrigued to uncover this hidden and poignant chapter of comedy history.
"In creating a highly poetic and comically unreliable tribute to two extraordinary artists, we will value fiction over fact, fantasy over reality and shine a very unusual light on a pair of showbusiness legends."
The cast is Sara Alexander, Nick Haverson, Jerone Marsh-Reid and Amalia Vitale.
The Strange Tale of Charlie Chaplin and Stan Laurel can be seen in the Round at the Stephen Joseph at 7.45pm from Tuesday March 3 to Saturday March 7, with matinees at 1.45pm on Thursday March 5 and 2.45pm on Saturday March 7.
Tickets, priced from £10, are available from the box office on 01723 370541 and online at www.sjt.uk.com