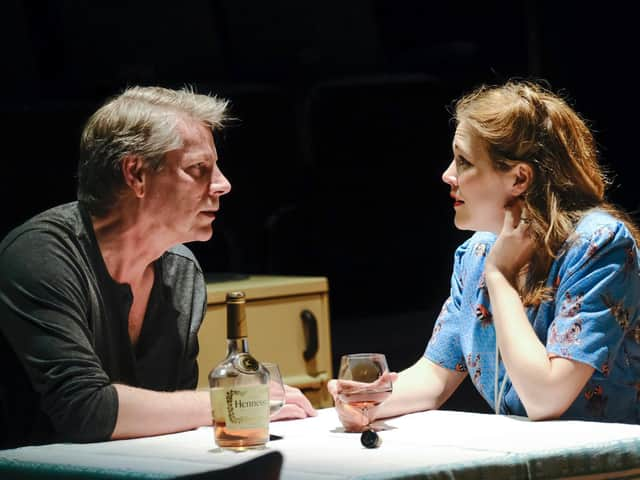 Bill Champion as Rob and Naomi Petersen as Lily
Covid-19 is a goldmine of tragedy, triumph, love, loss, heroes and villains, fate and fickleness which will be plumped to the depths.
Among the first up is Alan Ayckbourn's 85th play The Girl Next Door which premiered at the Stephen Joseph Theatre in Scarborough, writes Sue Wilkinson.
True to the rules and nature of the times, the play was rehearsed in two bubbles – in case members of one succumbed to Covid-19 – and was watched by a socially-distanced, mask-wearing audience served interval drinks, wrapped in brown paper bags, in their seats.
Bill Champion plays Rob - an out-of-work actor in Ayckbourn's 85th play
After the past 16 months, we could be forgiven for having our fill of the horrors which Covid has and continues to wrought.
The last thing we may want is a re-run of it ... but what art and entertainment can do is help put these times in perspective and start a process of contemplation and reflection.
Few are better equipped to do this with humour and compassion than one of our greatest playwrights .
The Girl Next Door is about a modern day out-of-work actor Rob – once the star of a BBC series about the National Fire Service – who falls into the past by walking through the hedge which separates him from his next door neighbour – Lily, a housewife living in 1942 Second World War London.
Naomi Petersen as Lily and Linford Johnson as Alf in the play that runs at the Stephen Joseph Theatre until July 3
The pandemic play is genre-defying. It is part love story, part state-of-the-nation – people working from home, Zoom calls, boredom – part sci-fi, part comedy and part tragedy. It is Time Slip meets Goodnight Sweetheart.
It is genius – Ayckbourn is comparing Covid-19 to the Second World War, tapping straight into what has become our terms of reference.
We have been told numerous times Covid-19 is the biggest threat Britain has faced since that conflict.
Ayckbourn opens the flood gates – exploring the nature of heroes, frontlines, Dunkirk spirit, digging for victory, ration, shortages, separation, evacuation, isolation and the obsession with data and statistics.
Bill Champion and Alexandra Mathie play brother and sister
"You have the blackout, we have lockdown," says one character.
It also allows him to look at life's randomness and how dangerous it is to take things for granted.
One minute we can be contemplating what we will have for tea – the next we are avoiding our loved ones in case we catch or spread a virus that is killing people in their tens of thousands.
Somethings, though, never change. This includes love, its steadfastness and its fickleness. Affairs, divorce, fidelity and infidelity are familiar Ayckbourn themes which also run through The Girl Next Door.
The cast of four are magnificent. Bill Champion's Rob puts on a cynical play boy front which crumples as he is forced to reflect on the love he craves but cannot hold on to.
Naomi Petersen is the tough but lonely Lily missing her husband and children – confused and in awe of the 21st century and who prefers the simplicity of the past.
Linford Johnson is the returning hero Alf – the chirpy, cheeky cockney fighting his own demons.
The anchor of the play is Alexandra Mathie as Rob's sister and Treasury civil servant Alex. Her delivery of the one-liners and withering looks as she keeps her head while all those around her lose theirs are first class.
The Girl Next Door runs at the Stephen Joseph Theatre until Saturday July 3.
Tickets, priced from £10, are available from the box office on 01723 370541 and online at www.sjt.uk.com