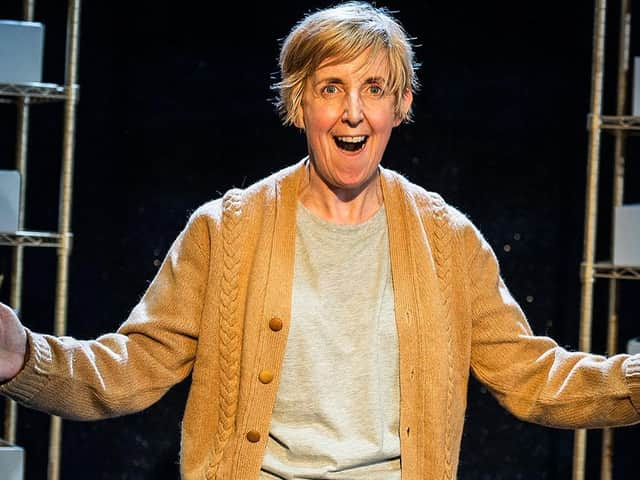 Julie Hesmondhalgh in the Greatest Play in the History of the World
As the narrative unfolds, we assume that it is going to be a story about two young people, Tom and Sara, detached and drifting, like two random spacecraft that have lost their trajectory, and their eventual arrival at a synchronous orbit.
Big as this theme is, this play has more to it than that.
As we are introduced to a few more of the residents of Preston Road, our prejudices are challenged and the narrowness of our focus on the here and now has to give way to a more expansive vision of who we are.
The first clue comes with the tattoo on neighbour, Mrs Forshaw's arm. As a science teacher at her local Comprehensive, her most riveting lesson was the one where she explained the significance of the Latin inscription on her arm: per aspera ad astra – through hardship to the stars.
We cut to a recorded voice explaining the Voyager missions and the golden discs they carry as part of their payload. Each disc contains images and sounds that attempt to summarise who we are and what we value.
This narrative weaves effortlessly in and out of the Sara and Tom story.
Most audience members will be familiar with Julie Hesmondhalgh's work on television, fewer, probably, with her work on the stage.
She stands in a long line of versatile British actors who seem able to turn in a convincing performance in any context or format.
But her magnetism is not just the result of talent, it is also a function of the warmth she radiates.
It is palpable from Row D and never languishes for the 70 minutes she is on
In the most benign manner, she controls audience responses: retiring to the back of the stage here; engaging directly there; setting hearts racing as she speeds up the narrative elsewhere. It is a remarkable performance.
In the very best performances, there are moments of audience stillness where, I suspect, an actor must think, "Got 'em".
Such moments occur on several occasions during The Greatest Play in the History of the World.
The play is sold out at Scarborough.
Chester Storyhouse, Hunter Street, Chester
Wednesday 26 - Sunday 30 May 2021
7.30pm, 2.30pm (Thurs, Sat and Sun)
Box office: 01244 409 113 (option 1) www.storyhouse.com
York Theatre Royal, St Leonard's Place, York
Tuesday 1 - Saturday 5 June 2021
Box office: 01904 623568 | www.yorktheatreroyal.co.uk
Hull Truck Theatre, Ferensway, Hull
Monday 7 - Saturday 12 June 2021
7.30pm, 2.30pm (Thu and Sat)
Box office: 01482 323638 | www.hulltruck.co.uk
Nottingham Playhouse, Wellington Circus, Nottingham
Tuesday 15 - Saturday 19 June
7:30pm, 2:30pm (Thu and Sat)
Box office: 0115 941 9419 | www.nottinghamplayhouse.co.uk
Oldham Coliseum, Fairbottom Street, Oldham
Thursday 24 - Saturday 26 June
Box office: 0161 624 2829 | www.coliseum.org.uk
Liverpool Playhouse, Williamson Square
Tuesday 29 June – Saturday 3 July
7:30pm, 2pm (Thu and Sat)
Box office: 0151 709 4776 | www.everymanplayhouse.com
The season at the Stephen Joseph continues into the summer.
The Girl Next Door – June 4 to July 3 – world premiere: written and directed by Alan Ayckbourn.
The 85th play from the theatre's director emeritus is a touching reflection on the ability of love to rise above adversity
Home I'm Darling – July 9 to August 14 – by Laura Wade, directed by Liz Stevenson.
A comedy about marriage and one woman's quest to be the perfect 1950s housewife Theatre Bolton.
The Offing - October 14 to 30 – world premiere: adapted by Janice Okoh from the novel by Benjamin Myers, directed by Paul Robinson.
Set in Robin Hood's Bay, it is a coming-of-age story. The book was a BBC Radio 2 Book Club Pick.