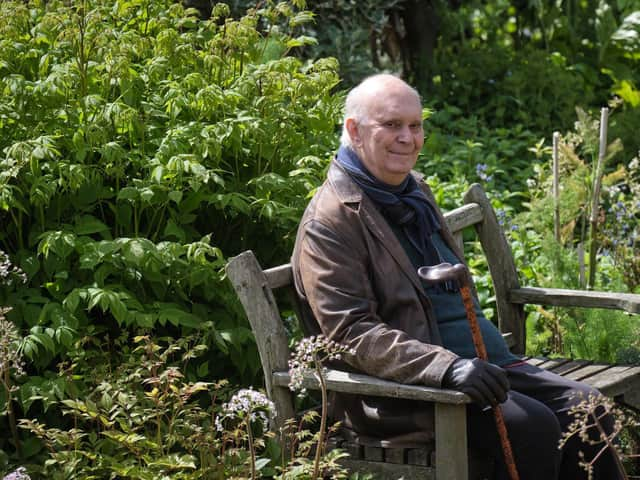 Playwright Alan Ayckbourn
But I was strongly reminded of sitting at home and listening to a voice from the brown box in the corner with the glowing tuning dial and valves.
Alan Ayckbourn's Haunting Julia plays on the notion that ghosts may haunt us, but could we be haunting them?
Certainly, each of the male characters has a tale to tell about the suicide of the nineteen-year-old Julia Lukin some 12 years before.
The three men meet at the Julia Lukin Music Centre, a shrine set up by her father, Joe, to commemorate his child prodigy daughter.
Ayckbourn takes every male part himself using some electronic wizardry. It is quite a trick to pull off. Joe is in his 60s while Andy Robinson, Julia's only boyfriend, would be in his mid- thirties. Ken Chase falls somewhere in between these two.
There are doubts about Julia's suicide that are satisfyingly resolved as the play progresses. Joe asserts that, "There are questions about her death", and she seems to have had a, "secret admirer".
Various noises off begin to intrude as the eponymous Julia makes her presence felt. Of course, this is 2020 and the author cannot rely on audience credulity as to the reality of ghosts, even though there may still be a lingering doubt nagging at us. In that respect, the play has a similar effect to the Dickens' Christmas stories – particularly of stories like The Signalman – or perhaps M R James. However, the most direct influence is probably Susan Hill's The Woman in Black which was a big success for the Stephen Joseph Theatre company in 1987
Does Julia really exist or is the ghost a function of powerful memories? Are the men, with their different recollections, projecting their own preferred version of the events of 12 years before?
Originally written as a one -act play and first staged in 1994, Haunting Julia builds an unremitting tension that never lets go its grip of the audience. There are other versions – a two-act structure was introduced as bar takings went down with no interval – but the one-act version is faithful to Ayckbourn's original vision.
Support Scarborough's Stephen Joseph Theatre and tune in via SJT website: https://www.sjt.uk.com/You have until January 5.