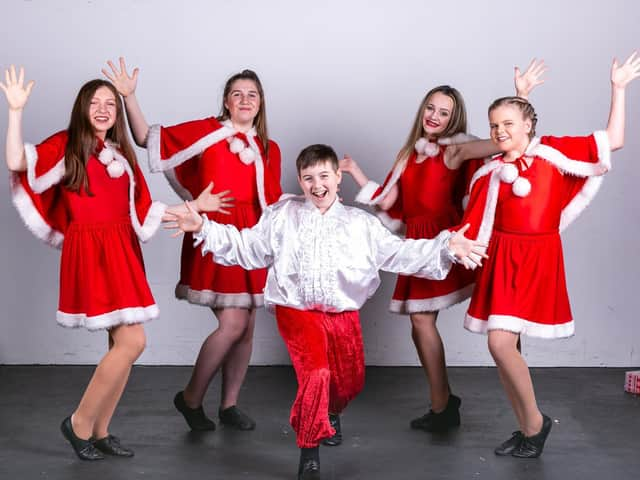 The YMCA pantomime runs at the St Thomas Street theatre until January 4
This year YM Productions presents Jack and the Beanstalk which, as always, is full of fun and sparkle.
Based on the fairytale, it is the story of Jack who sells the family cow for a handful of magic beans that grow into a beanstalk which leads to a giant's castle – and wealth beyond imagination.
Nathan Mundey confidently leads the cast as Jack, encouraging the audience to shout, clap and generally join in.
Stepping brilliantly into the role of dame this year is Adam Johnson – in the mould of a Les Dawson with plenty of innuendo and cheeky chat.
The boos were lapped up by Sam Langley who plays the baddie and Megan Blake makes a lovely, chirpy Jill.
Raphaella Lund and Chris Dunn are a great comedy double act as Goldie the Goose and Harry the Harp, respectively.
There is plenty of song and dance with crowd pleasers including Build Me Up Buttercup, Holding Out for Hero, We're in the Money and You Can't Stop the Beat.
They make for an upbeat, cheering and cheerful production which is family entertainment all the way.
The YMCA always goes to town with its effects and lighting and the team has created a truly sparkling, festive atmosphere.
Dame Trott – Adam Johnson
Fairy Godmother–Chloe Wright /Abbie Davies (split)
Goldie The Goose – Raphaella Lund
Harry The Harp – Chris Dunn
Chloe Wright / Abbie Davies (when not Fairy Godmother)
Director/producer James Aconley
Choreographer: Jenny Hollingworth
Production and stage manager: Steve Brewster
Costumes: Wendy Chapman, Rose Hadley, Sandie Gosling, Karola Powell, Liz Scarborough, Kay O'Brien
Production assistant: Julie Cannon
Lighting design and control: Jake Newlove, Katie Doubtfire, Ben Coyle
Sound design and control: Brad Dresser, Jamie Myers
Stage crew, set design, set build and properties: Owen Price, Chris Bullivant, Ben Lund, Declan Carr, Anne Mortlock, Ollie Winter, Valentino Ferrari, Taylor Dawson, Hayley Green, Connor Streets, Kay McKinney, Evie McGlinchey
Dame make-up: Scarborough TEC students
Voice of Giant: Paddy Billington
Castle on the Hill Lyrics: Raphaella Lund, Amy Shepherdson, Robin Pattison, Jess Little, Hannah Smith
Jack and the Beanstalk runs at the YMCA Theatre, St Thomas Street, Scarborough, until Saturday January 4, daily at 2pm plus Saturday January 4 at 7.30pm.