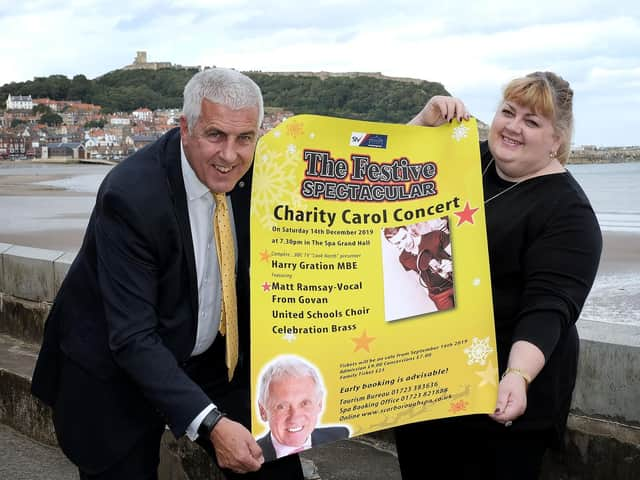 r Organiser Nigel Wood with the Scarborough Spa manager Rachel Nicholson
The event which is in its 23rd year was to be held in the Spa Grand Hall on Saturday December 12.
Organiser, Nigel Wood says, "The decision to cancel this year's concert was not taken lightly, and many of the circumstances surrounding this decision have been out of our control."
Since the inception of the concert in 21 years ago, £88,000 has been distributed to many local charities.
Nigel said: "Although we will not be holding the concert in the Spa Grand Hall, we are working hard to prepare a 'virtual concert' online on Saturday December 12 at 7.30pm.
"We are going to use excerpts from the past few years which will feature some of the guests, previous United Schools Choirs and Celebration Brass and, of course, BBC Look North presenter Harry Gration. We are determined to bring some Festive Spectacular cheer albeit online."
More details will be released nearer the time, which will include details of a Just Giving page.
Nigel said "We will endeavour to raise money again this year for the Salvation Army, The Rainbow Centre and Westway Open Arms project's Food Banks. These groups have been very busy throughout the lockdown period and we are sure that there will be increased demand over the Christmas period and days ahead. This is a community event and this year is no different apart from the exception that you will be sitting watching online in the comfort of your home."
For those who have previously sponsored the event and would like to continue this year please contact Nigel directly via email: [email protected] or via mobile: 07811373880.