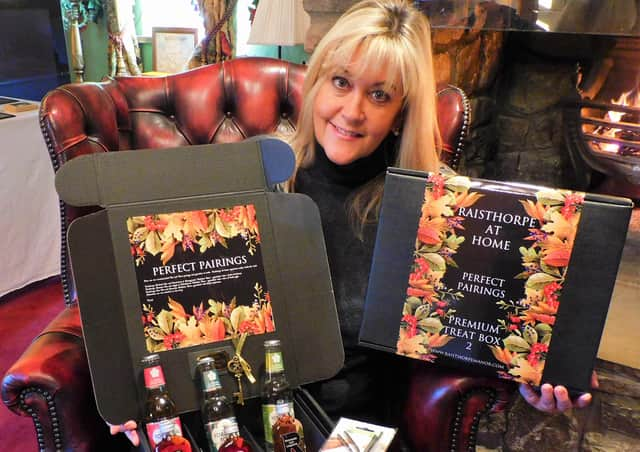 Julia Medforth, MD of Raisthorpe Distillery, is pictured with the treat boxes.
Yorkshire Wolds artisan drinks producer Raisthorpe Distillery has launched a range of treat boxes featuring its award-winning gin liqueurs and ports and other goodies.
In anticipation of curtailed socialising as the Covid-19 restrictions remain in place, the 'Raisthorpe at Home' Perfect Pairing Treat boxes are ideal for gifting to friends and family who you're unable to see at the moment – or even for treating yourself.
Julia Medforth, MD of Raisthorpe Distillery, said: "We are all in need of a little extra indulgence and nurturing this winter. That's where the idea for our new at home range came from."
Available in a choice of two treat boxes, three 5 cl shots of Raisthorpe's gins are paired with Yorkshire Tonic's mixers to make the perfect cocktails at home.
Box no 1 comprises Dry Gin paired with Skinny Tonic, Oak Aged Gin with Pink Grapefruit Tonic and Elderflower Gin with Premium Tonic.
Box no 2 comprises 5cl miniatures of Raisthorpe's Rhubarb Gin and Strawberry paired with Pomegranate Tonic, Damson Gin with Apple and Elderflower Tonic and Sloe Gin and Premium Tonic.
Raisthorpe won four prestigious Great Taste Awards this year for its Damson Gin Liqueur (2-stars) and 1-star each for its Damson and Sloe Ports as well as its Apple and Elderflower flavour Yorkshire Tonic.
Visit www.raisthorpemanor.com to find out more about Raisthorpe Distillery.