Award-winning Playdale Farm Park in Cayton reopens
Family-run Playdale Farm Park is welcoming visitors back through its gates at Cayton, near Scarborough.
Thursday, 9th July 2020, 11:09 am
Updated
Thursday, 9th July 2020, 11:10 am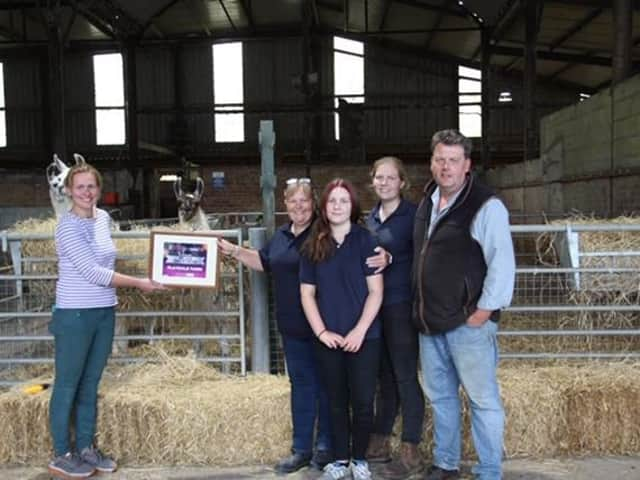 Playdale Farm Park family receive the Mumbler Award from Saraj Jane Barker
The attraction was voted Best Local Family Attraction in the first Scarborough and Whitby Mumbler Awards announced this month,
Owners Jackie and Mark Wilson, with daughters Megan, 22, and 18-year-old Poppy, have spent hours ensuring the farm is Covid-19 secure.
"We have put in a one-way system, new signage, hand-sanitiser stations and a new more rigorous and regular cleaning procedures," said Mrs Wilson.
Playdale is home to 26 different species – hundreds of animals – including ferrets, chipmunks, chinchillas, rabbits, guinea pigs, sheep, pigs and goats. They also have emus and poultry.
The children's ride-on pedal tractors have been moved to a newly-made track. The outdoor play areas - with new fencing to allow one-way entry and exit - have reopened and a take-away service is available from the on-site cafe.
These include toasties, sandwiches, jacket potato, adults and kids lunchbag, salad box, burgers and a selection of cakes as well as hot and cold drinks.
Some facilities are cash only – the kiosk and ice cream counter which has had to be moved from the gift shop to the kiosk.
The soft play ares are closed. There are no guinea pig or chick handling sessions for the time being.
"All we need now is great weather," said Mrs Wilson.
Playdale Farm Park is in Carr Lane, Cayton, and is open seven days a week,