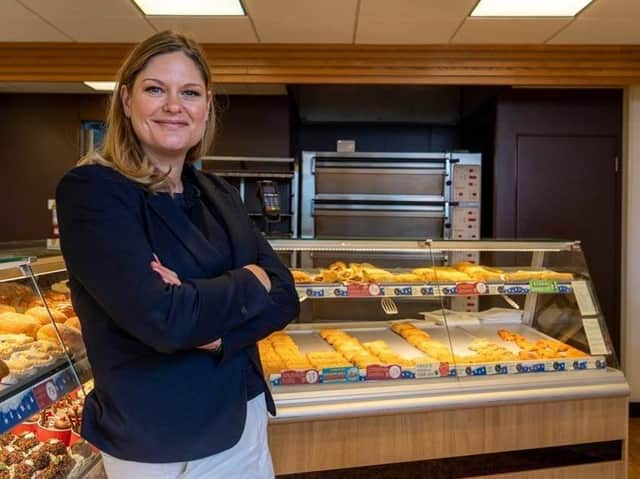 Belinda Youngs, CEO of Cooplands
We always remember those who stayed by our side in the darkest hours.
During the height of the first wave of the pandemic, when many high streets were desolate, the Yorkshire-based bakery firm Cooplands rolled up its sleeves and continued serving customers, including the isolated and needy.
Supported by growth capital investment, Belinda Youngs plans to oversee a rapid expansion of the brand, without losing the personal touch which has sustained the business for 135 years.
"Our resilient staff have focused on serving our communities during the pandemic,'' she recalled. "We remained open when most others closed around us, as well as delivering food care parcels to those most in need. We hope that has embedded us even further in our communities."
"I grew up in a bakery. My father ran a business with 300 bakery shops and I worked the holidays in them through my teenage years. It's in the blood."
Established in a Victorian pork butcher and pie shop, the Cooplands brand has weathered wars and recessions. Its name will soon be much more widely known. BGF has made a further substantial investment in the expansion of the Scarborough-headquartered business.
Three years after BGF's initial £8.5m investment, the business has grown to more than 165 stores, 12 cafes and 36 sandwich vans.
The pandemic did not break its stride. Cooplands has opened seven new stores since March 2020 and plans to roll-out an additional 30 stores a year in locations such as South Yorkshire, as well as expanding further in the current geographical footprint.
The Coopland family will remain important minority shareholders of the business, with Paul Coopland, the founders' great grandson, continuing to support the business in a non-executive capacity.
Ms Youngs, who joined the company as CEO in 2019, has more than two decades' experience in the grocery retail sector in the UK and Canada, and has held senior roles at Morrisons and Sainsbury's. Just a year after taking on the top job, she has become a passionate advocate for the firm.
"Cooplands is a lovely brand,'' said Ms Youngs. "One of the first things I did when I joined was carry out consumer research. I was blown away by how healthy the brand is.
"It had the right mix. It had a strong quality proposition underpinned by good honest value with positive perceptions around our heritage and tradition."
Market forces are very much on Cooplands' side.
"With food to go projected to grow at 5% for the next five years and about 70% of our sales being food to go, this presents a good opportunity for growth for us if we ensure our product range is evolving in line with customer needs,'' said Ms Youngs.
"There are regional products we are looking to develop to be as locally relevant as possible, for example, Lincolnshire sausage rolls or Stotties."
"There are also format opportunities to expand the traditional shop style and add seating as well as an extended range; we have opened four format trials this year which we will assess,'' Ms Youngs added.
"There could be new locations in retail parks and industrial estates and even some travel environments depending on how customer behaviours normalise after the pandemic is behind us."
The pandemic has changed every aspect of life in Britain. When life finally heads back to something approaching normality, Cooplands will be embarking on a period of expansion which will see it become a familiar face in dozens of high streets. According to Ms Youngs, the business just oozes opportunity.
She added: "We plan to open 150 stores over the next five years, particularly in West and South Yorkshire. We opened a shop in Ossett (in West Yorkshire) during the first lockdown which is doing incredibly well."
"I am looking forward to doing further work on our training academy in the coming year, where we teach bakery skills and develop our bakery staff."
The company has a long-standing commitment to innovation. In 2019, Cooplands became one of the first high street bakery chains to sell 100 per cent vegan bread and rolls, made with none of the animal fats, dairy, eggs or honey that can often be found in shop-bought breads.
Ms Youngs added: "Like most businesses, we've established new ways of working this year and we've also found areas for innovation, including the launch of our online ordering platform and Cooplands recipes and products which allow customers to recreate our most popular bakes at home."
Her three year stint as corporate brand and marketing director at Morrisons, helped her to develop an abiding affinity with the region.
"During my time at Morrisons, I learned a lot about Yorkshire and manufacturing and further developed my skills in marketing, design and product development,'' she said.
"Apart from the pop and crisps, Cooplands make it all ourselves. We also transport our goods ourselves. The food industry is all I've known. It's where my passion is.
"It's vertically integrated from end to end. Cooplands has a very strong culture and retail is a people powered business.
Cooplands' growth will also lead to significant employment opportunities, but Ms Youngs is determined to ensure the firm never lose sights of its core values.
"We plan to create between 800 and 1,000 jobs over the next five years and many of these will be in Yorkshire,'' she said. "That will be our focus for the next five years. The next five years after that could see us go out into the North West.
"We are not seeking acquisitions, but if one came along that was a good fit we would be foolish to ignore it. What has really mattered is to have businesses in the heart of the community."
"Cooplands feels like the family business it has always been and our people are at the centre of that, it is my job to make sure that doesn't change as we grow. It's important you don't lose the essence of that culture."