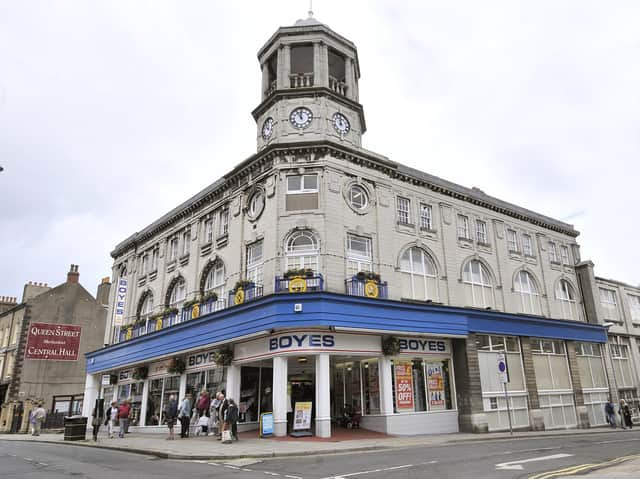 Boyes store in Scarborough
Boyes is reviewing posts at its head office in Eastfield as well as some of its stores, which include shops in Scarborough, Whitby, Malton and Bridlington.
It has blamed falling sales because of the pandemic.
Retail operations director at Boyes Robert van der Heijden said he could not say how many of the 1,870 people the firm employs will be affected.
"The difficulties of this dreadful virus to the high street are well documented and we are not immune from them," he said.
"It's inappropriate to go into details at this stage. The consultation is still ongoing."
He said Boyes is looking to make a reduction within the business "in line with future sales expectations" but would work hard to minimise the number of jobs hit.
"This will affect our head office as well as some of our stores," he added.
"It's a very difficult time for us.
"It's very important that we carry out a thorough and fair consultation process."
He thanked staff for their patience and understanding.
According to the firm's website, Boyes was started in 1881 by William Boyes who opened a small store in Eastborough, Scarborough, selling odd lots and remnants from merchants.
When customers found that they could buy enough material to make a coat or a dress cheaper than anywhere else, they soon spread the word and trade increased to such an extent that William had to look for larger premises.
He rented a large warehouse just off the main street where business continued to grow.
By 1886 he had purchased units in Market Street and Queen Street and merged them into one large store, naming it 'The Remnant Warehouse'.
William expanded his range and bought other clearance lines from merchants, developing the warehouse into a department store.
Business continued to grow today, W Boyes and Co Ltd operates more than 60 stores throughout Yorkshire, the North East, Lincolnshire and Nottinghamshire and Leicestershire.