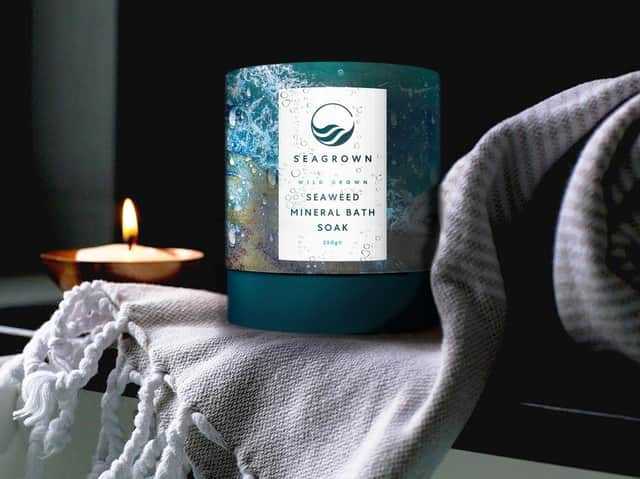 Seaweed bath soak
For SeaGrown's founders Wave Crookes and Laura Robinson, who established England's first large-scale, commercial seaweed farm in 2018, the new bath products are the next exciting step in the SeaGrown journey, and further highlight the brand's affinity to its cause - sustainability.
With the upcoming opening of the greatly anticipated, Southern Star, a stunning vessel with a rich history, which arrived at its new permanent home in Scarborough harbour at the end of last year, SeaGrown's reach and influence across the region continues to expand. SeaGrown's ambitious plans for the ship include a visitor centre, cafe and a unique gift shop where their range of sustainable seaweed products will take centre stage.
The mineral bath salts, which are available to order now from the SeaGrown website for £16.95, will be among the locally sourced products available to purchase from Southern Star's shop which SeaGrown hopes to fully open, lockdown restrictions permitting, in the coming months.
The wild grown Seaweed Mineral Bath Soak from SeaGrown has been developed to the high standard SeaGrown has become renowned for. Each 'soak' contains pure natural seaweed, harvested in the UK, and contains the beneficial minerals and nutrients associated with seaweed to help promote skin health.
Blended with Epsom salts, the 100% natural soak dissolves in warm bathwater to aid relaxation and wellbeing. The carefully selected, vegan-friendly ingredients help to restore tired muscles and soothe body and mind, delivering a unique dose of North Sea therapy.
Discussing the new venture, SeaGrown founder, Wave Crookes said: "We're so excited to launch our new Seaweed Mineral Bath Soak, they have been months in the making but, we're delighted to say, they are finally here! We're hoping they bring a little luxury and wellbeing to kick start 2021, marking the end of what has proved to be a difficult year for so many.
"The last few months have seen have a huge leap for us, the arrival of Southern Star and this new product launch; it's the perfect next chapter in the SeaGrown story. Although we can't launch either on quite the scale, we would have liked this year, we hope that as 2021 unfolds, we can begin to welcome more people aboard and get everyone sampling the new bath soak for themselves".